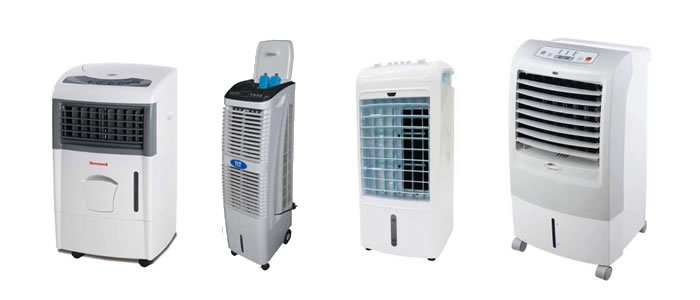 Air coolers are sure lifesavers when you are living in a tropical country like Malaysia. There are days, especially in Kuala Lumpur when mere fans just won't do. Air coolers are the perfect compromise between fans and air conditioners. It has allowed us to stay comfortably cool without having to worry about the crazy electric bills. Plus, adding an air purifier ensures you have the best quality air in your home.
Here are some of our favourite air cooler brands available in Malaysia today.
Table of Contents
Best Air Cooler Comparison Table
How do air coolers work?
Choosing between air coolers and air conditioners
Comparison Table
1.
Midea MAC-120AR
Air Purifying Effect
The Midea MAC-120AR is a great addition to any room in your home. With its three-speed fan, you can easily adjust the level of airflow depending on how much cooling or heating you need. The Auto Shut-Off Pump Protection feature prevents damage to the device if it runs dry and the Power Off Memory function helps ensure that your selected settings will remain in effect even during power outages. Additionally, the Air Purifying Effect means that this fan does more than just circulate air – it also helps remove airborne particles and odours from your living space for healthier indoor air.
This multi-functional fan comes with several features designed to enhance convenience and energy efficiency as well. With its remote control capability, you can make speed changes from anywhere in the room without having to get up off of your chair or couch. And since it has an Energy Saving Mode option, you have complete control over how much power consumption is taking place at any given time so that you can save money on utility bills while helping protect the environment at the same time.
If you're looking for a powerful yet efficient fan with multiple benefits, then look no further than the Midea MAC-120AR! Its numerous features will allow for improved levels of comfort throughout your entire home while saving money on utility costs too – all factors which make it stand out against other fans available today! Stop by our store today and pick up one now for an unbeatable price!
Pros:
Reduces dryness by providing a humidifier
Powerful 3-speed fan for the desired level of comfort
The 7-hour time setting offers optimum convenience
Cons:
Not Suitable for Larger Rooms
Check Best Prices on Lazada
Check Best Prices on Shopee
2.
PerySmith Air Cooler Zefer Series T9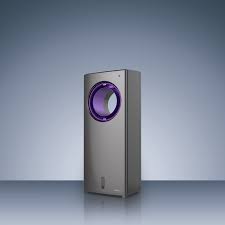 With Honeycomb Filter
The PerySmith Air Cooler Zefer Series T9 is an innovative cooling solution that provides superior performance in a lightweight and compact design. This air cooler features soundless operation with 45° rotation for optimum air circulation, making it the perfect choice for bedrooms or small offices. Additionally, its LED display with soft touch control allows you to easily change modes so that you can find your ideal comfort level.
Not only does this air cooler provide excellent airflow, but it also filters out micro-dust from the air thanks to its honeycomb filter system. For energy savings and convenience there is a 1 to 8 hours timer function combined with 3-speed modes which gives you full control over how much coolness is being produced at any single time. Finally, there is a bladeless swing mode featuring 3 wind settings such as sleep, natural and normal – perfect for creating just the right amount of chilliness when needed!
All in all, if you're looking for an efficient way to stay comfortable while still keeping energy bills low then the PerySmith Air Cooler Zefer Series T9 should be at the top of your list. With impressive features like soundless operation, timer functions, filtering capabilities and more – this product will make sure no hot summer night gets uncomfortably sweat-inducing ever again! So what are you waiting for? Try out this amazing device today and experience true cool relief!
Pros:
Soundless operation and a gentle breeze provide a comfortable environment
LED display allows for effortless changing of modes with just a soft touch
SMART memory function remembers previous settings upon turning on
Cons:
May be too expensive for some budgets.
Check Best Prices on Lazada
Check Best Prices on Shopee
3. Midea Ionizer  MAC-215F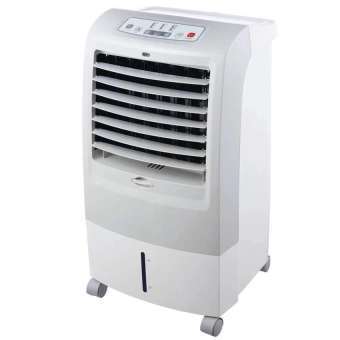 Built-in Ionizer
MIDEA MAC-215F is the perfect air cooler for anyone looking for a powerful and reliable cooling system. The 3-speed fan gives you the power to adjust the speed of the fan to your preference, allowing you to save energy while targeting your cooling needs. With its Built-in Ionizer, it helps reduce allergens in the atmosphere by significantly reducing bacteria and dust particles in the air making sure that everyone can enjoy fresh and clean air. The Visible Cooling Technology combined with its 40mm thick filter makes sure that cool air reaches further distances than most other fans, ensuring that every corner of your room remains at an optimal temperature.
The LED display feature of this fan makes it stand out from others as it allows users to personalize their experience by changing different settings like adjusting timers and oscillation angles according to individual requirements. Furthermore, this product also comes equipped with a unique aroma smell diffuser which enhances your living space with natural scents from essential oils or aromatherapy fragrances. This will not only make any area feel more inviting but also help relax tired minds after a hard day's work!
3As mentioned before, MIDEA MAC-215F is packed full of amazing features making it worth every penny. It creates an efficient yet affordable way for people everywhere to stay comfortable during hot summers without having too much strain on their pockets! So if you're looking for a great way to keep yourself cool throughout the summer months without compromising on quality then have no worries because we got you covered! Try out MIDEA MAC-215F today; You won't be disappointed!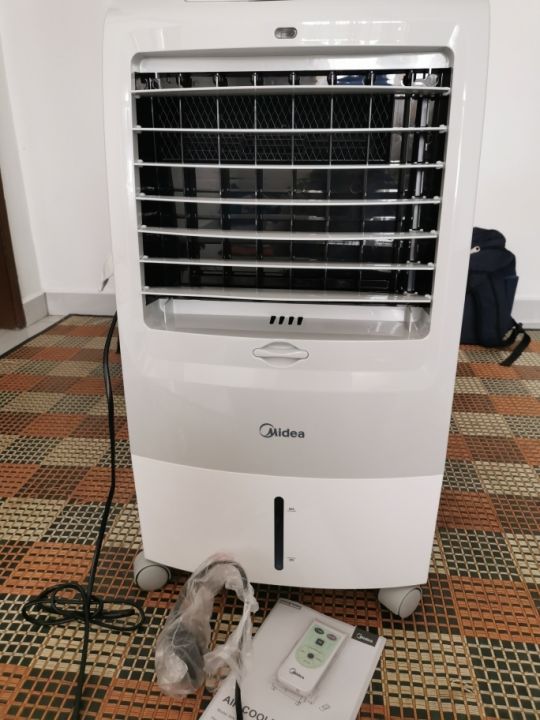 Pros:
Visible Cooling provides a more efficient cooling experience.
40mm Thicker Filter traps dust and other impurities, keeping the air fresh.
LED Display ensures easy operation with visible settings and functions.
Cons:
The built-in ionizer is not adjustable and cannot be turned off
Check Best Prices on Lazada
Check Best Prices on Shopee
4.
Morgan MAC-COOL1A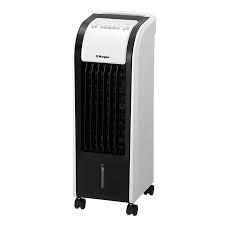 Durable Honeycomb Filter
Morgan's MAC-COOL1A is an excellent choice for cooling mid to large-sized rooms quickly and efficiently. With 75W of power, a 5L water tank capacity, 1150M³/hr airflow and three speeds to choose from, you can create an ideal temperature in no time at all. No matter how hot the room gets during summer days or humidity rises during monsoon season, the MAC-COOL1A will provide refreshingly cool air with low noise while consuming minimal energy as compared to other models.
The unique feature of this appliance is its adjustable speed which lets you control how strong the airflow will be. This comes in handy when sleeping or just lounging around since it allows much more flexibility than static settings some other models offer. It also has an indicator light which clearly shows whether it's on low speed, medium or high according to your personal preference!
Overall, Morgan's MAC-COOL1A provides just enough power and features to keep your living space comfortable without taking up too much energy or space! If you're looking for a reliable yet affordable way to cool down your room even in extreme weather conditions then look no further – get yourself a Morgan's MAC-COOL1A today!
Pros:
Provides powerful cooling performance with 75W of power and 1150M³/hr airflow.
Comes with a 5L water tank capacity, suitable for rooms up to 20-25m² in size.
3 in 1 Air cooler/ Air Purifier / Humidifier ensures fresh and clean air quality in your living space.
Cons:
Less movable due to heavyweight
Check Best Prices on Lazada
Check Best Prices on Shopee
5.
Morgan MAC-CX12
3 in 1 Device
The Morgan MAC-CX12 is a great air cooler for any homeowner looking to keep their home or office space comfortable and cool. With 75W of powerful cooling, it easily handles rooms up to 25m² in size. Paired with its 1150M³/hr airflow, you can quickly reduce the temperature in even larger areas. The addition of an impressive 5L water tank capacity ensures that the cooler runs for many hours without refilling, making it ideal for long periods in rooms without access to water outlets.
Not only does this top-of-the-line unit offer superior cooling performance but also includes other functionality such as air purification and humidification capabilities; all packed into one handy unit! This versatile 3-in-1 feature works incredibly well to help filter out allergens and pollutants while helping maintain optimal humidity levels; leaving your living environment feeling much more pleasant than before. Additionally, its sleek design makes it not only functional but aesthetically pleasing too!
If you're after an efficient yet cost-effective way of staying cool during hot weather months then the Morgan MAC-CX12 is definitely worth checking out! Its advanced features combined with affordable pricing make this air cooler a must-have item for residential use – you won't be disappointed!
Pros:
Provides superior cooling performance with 75W of power
5L water tank capacity for extended run time
1150M³/hr airflow to cover large areas up to 20-25m²
Cons:
No automatic water level indicator
Check Best Prices on Lazada
Check Best Prices on Shopee
6.
SHARP PJA36TV
3D Cooling Technology
The SHARP PJA36TV Air Cooler is an incredibly versatile and efficient cooling device. It has 65W of power to ensure a powerful and cool breeze in any space, quickly and effectively. With up to 320m3/h of air volume, the cooler can provide wide coverage for large rooms or offices with ease.
This sophisticated appliance also features Water-lacking Protection to prevent damage from overuse. Moreover, it comes with 4 fan speed settings (Soft, Low, Middle, High) so you can find your preferred comfort level easily; as well as 3 wind modes: Normal Wind, Natural Wind and Sleep Wind for specialized airflows according to your needs.
Whether you are looking for personal cooling or need an easy solution for larger spaces; the SHARP PJA36TV Air Cooler is highly recommended! Its thoughtful design combined with its energy efficiency makes this product a great choice; not only will it help keep you comfortable – but make sure that you won't be spending more than necessary on electricity bills either!
Pros:
4 speeds control to customize your airflow
Ultra quiet performance and low noise levels
Lightweight and compact design for easy deployment
Cons:
Check Best Prices on Lazada
Check Best Prices on Shopee
7. 
Khind Air Cooler EAC600
Adjustable Timer Setting
The Khind Air Cooler EAC600 is a powerful and efficient way to cool down any room in your home. Featuring a 3-speed fan, it allows you to customize the amount of cooling power you need for the perfect temperature. With its 7-hour timer setting, you can ensure that it's not running when you don't need it, which will help save energy and money. Additionally, the wide-angle oscillation feature spreads cool air over a large area so each corner of your room stays comfortable and refreshed.
If safety is a concern for you then the Auto Shut-Off Pump Protection provides peace of mind by preventing damage if there happens to be no water left in the tank. And with remote control included, operating this machine becomes effortless while relaxing on your sofa or bed- all at your fingertip! Plus with an ice pack also provided, cooling temperatures become even more enhanced during those hot summer days.
All in all, this air cooler ticks off every box when looking for convenience and efficiency in an affordable package! So what are you waiting for? Get yourself one now and enjoy cool temperatures throughout the entire summer season!
Pros:
Creates a cool and refreshing environment
Provides extensive cooling coverage through the wide-angle oscillation
Offers superior safety by automatically shutting off the pump when it detects a lack of water
Cons:
Check Best Prices on Lazada
Check Best Prices on Shopee
8.
Elba EAC-G6570RC
Digital Control Panel
If you're looking for a reliable and energy-efficient cooling solution for your home, then the Elba EAC-G6570RC is sure to please. This air cooler has an impressive 7-litre water tank capacity that ensures plenty of powerful cooling action throughout its 65-watt power consumption. With its handy digital control panel, you can easily adjust your settings to gain ideal room conditions with little effort. The auto swing left to right oscillation will ensure an even distribution of cool air across larger rooms too.
In addition, there are three wind modes: Normal, Natural and Sleep Mode. Use sleep mode during warmer nights so that you can stay comfortable all night long without worrying about running up your electricity bill overuse! Or switch on to the natural setting when the summer heatwave hits – it creates a gentle breeze which will help keep temperatures down while not making too much noise either.
Whether it's hot days or balmy nights, the Elba EAC-G6570RC provides excellent value for money in terms of comfort and convenience as well as cost efficiency savings! For those looking for an efficient way to cool their homes quickly but don't want to break the bank doing so, this product should definitely be considered available on today's market – try it out now!
Pros:
7L water tank capacity for extended cooling session
65W low power consumption to save energy
The infrared remote controller provides convenient operation
Cons:
Does Not Have Humidifying Function
Check Best Prices on Lazada
Check Best Prices on Shopee
9. YET VM45i Powerful Home Air Cooler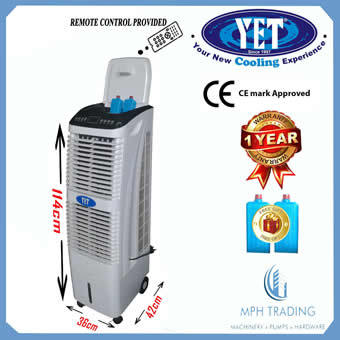 Easy to Install and Use
The YET VM45i Powerful Home Air Cooler is a great choice for anyone looking to keep their home cool. With a high-quality cooling pad and powerful fan, this air cooler provides adequate power for both large and small rooms. The 4-way swing directions allow you to direct the cool air in any direction of your choosing, giving even more control over where the cool air goes. As an added bonus, this powerful cooler has a timer function and is incredibly energy efficient with only 120 watts of power consumption required.
Not only does this product provide powerful cooling ability but it also looks stylish and modern with its minimal design that won't overpower a room's décor. The 3-level speed control is yet another feature that makes it attractive as you can adjust how much wind power depending on if you are trying to just temperate the temperature or knock down temperatures by several degrees quickly! In addition, there's no need to worry about compatibility as it comes with its own remote control which easily fits into any lifestyle due to its easy functionality that anyone from kids to adults can use without difficulty or frustration!
All in all, the YET VM45i Powerful Home Air Cooler offers ample features for consumers looking for comfort during hot days without breaking either budgets or electrical bills! If you have been searching for something stylish yet functional enough to make living in warmer areas more bearable then look no further – invest in yourself today by purchasing this fantastic device now!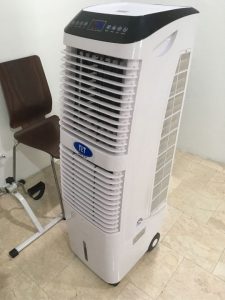 Pros:
Longer operation time of up to 6 hours with 30L tank capacity
A high-quality cooling pad for superior airflow and cooling efficiency
Energy efficient motor that consumes only 120 watts
Cons:
Costs more than other similar products on the market.
Check Best Prices on Lazada
Check Best Prices on Shopee
How do air coolers work?
Evaporative coolers or what we often call as air coolers basically use the evaporated water to cool down a room. Unlike air conditioners, air coolers can cool a certain spot only at a given location.
They produce cool mist into the air, which is then further propelled by the fan. For wider cooling reach, some users put air coolers need open doors and windows to facilitate better flow of cooler air.
Choosing between air coolers and air conditioners
Air coolers are proven to be more energy-efficient than aircons, with a remarkable difference of up to 75% in terms of energy consumption. They also do not make the air dry, unlike an air conditioner, does, and instead improve the overall air quality of the room.
The limitation though is that it cannot spread out cold air as effectively as air conditioners. This has something to do with their distinct operating mechanism, making air coolers more strategic for immediate and short-term cooling needs.
Air conditioners, on the other hand, are the best options for larger and more constant cooling requirements.
If you intend to invest in an air cooler now, here are our top list:
Arctic Air Ultra Portable Mini Air Cooler
Simplybest Arctic Air Mini Usb Portable Desktop Personal Space Cooler ands Humidifier
Midea Ionizer Air Cooler(15l) With Remote Control – Mac-215f