Coway has gained a reputation as a leading supplier of air purifiers in Malaysia and boasts a wide selection of highly efficient models designed to reduce indoor air pollutants such as dust, pollen, smoke, formaldehyde and pet dander. From powerful large-space coverage models to more affordable entry-level models for smaller spaces – there's something for everyone's needs with Coway's suite of quality products. This blog post will look at some of Malaysia's top-rated Coway Air Purifiers, their features comparison price guide, and some factors you should consider when choosing one for your home. So let's dive right into it!
Overview
Coway air purifiers are some of the most reliable and sophisticated home appliances that you can find in Malaysia. With its state-of-the-art design, Coway air purifiers are built with a 4-stage air filtration system specifically designed to trap and remove even the smallest airborne particles, including dust, pollen, bacteria, mould and other harmful pollutants.
They come equipped with various smart features such as auto mode setting and remote control capability and boast stellar energy efficiency rating (Energy Star certified). Best of all, you can opt for a monthly rental basis to save on cost while having access to one of the best brands in the market!
5 Top-Rated Coway air purifiers in Malaysia
Discover the top Coway air purifiers in Malaysia and determine which suits your needs best.
1. Coway Noble AP-2021A Air Purifier
The Coway Noble AP-2021A Air Purifier is an award-winning air purifier that will add style and grace to any home or office. With its luxurious hidden display, it can fit well into any decor. It has a four-stage filter system that includes a pre-filter, activated carbon filter, fine particle filter and UVC sterilisation. This powerful combination creates a six-step filtration process that eliminates airborne pollutants such as dust, pollen, smoke, pet dander and other allergens. Its directional airflow panel ensures that the purified air is evenly distributed throughout the room.
With the Coway Noble AP-2021A Air Purifier, you can be sure that you breathe the cleanest, freshest air possible. This air purifier will help reduce unpleasant odours and make the air in your home feel new and revitalised. It is an ideal solution for those with allergies or asthma, creating a safer environment for those who suffer from these conditions. Additionally, its stylish design ensures that it will look great in any room.
If you're looking for an air purifier that can offer both style and advanced performance, look no further than the Coway Noble AP-2021A Air Purifier. It is the perfect way to keep your home's air free of harmful pollutants and allergens. Its award-winning design and advanced features offer the ultimate combination of beauty and performance. So what are you waiting for? Invest in this air purifier today and breathe healthier air.
Pros:
360° purification to capture, clean and circulate air from every direction
Award-winning design in a harmonious Pebble Gray colour
6-step filtration with UVC for a constant flow of extra pure and clean air
Light-up display shines softly, adding a minimalistic luxury
Cons:
Expensive price tag
No remote control option
High power consumption
Check Best Prices on Lazada
Check Best Prices on Shopee
2. Coway STORM AP-1516D
Double HEPA Filter
The Coway STORM AP-1516D Air Purifier is ideal for any home looking to create a cleaner, healthier environment. It is built with a 3-stage speed control that allows you to easily adjust the airflow depending on the level of air pollution in the room. Additionally, it has 3 multidirectional air flows, which ensure that purified air reaches every corner of your home, so you can breathe easily.
This air purifier has several valuable features to make it even more effective. The dust sensor, light sensor, auto, silent, sleep modes and haze mode all contribute to a cleaner atmosphere tailored to your needs. You can also take advantage of the timer, quick, and airflow mode to better understand your home's air quality.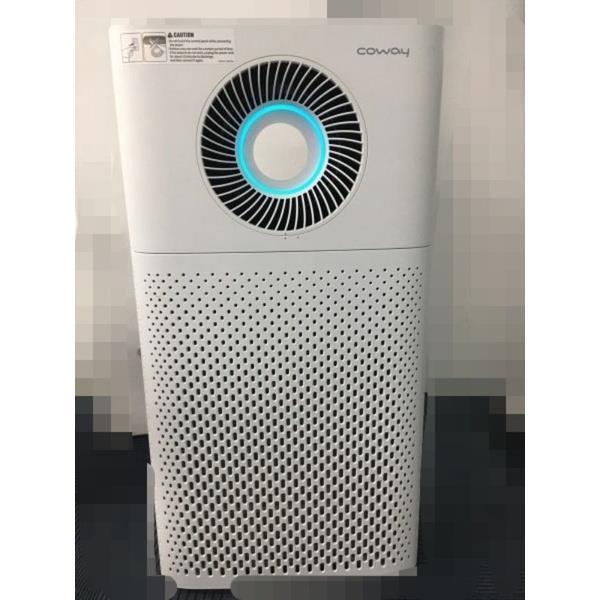 With the double HEPA filter, the air purifier offers top-notch performance that will keep your home healthy and clean. If you're looking for an air purifier that can tackle impurities in your home, this is the one for you. Plus, it's easy to use and maintain, making it an excellent choice for any home. So don't wait any longer – give your home the breathing room it needs with the Coway STORM AP-1516D.
Pros:
Provides clean air with the powerful Double HEPA Filter
Offers 3-Stage Speed Control and 3 Multidirectional Air Flows for maximum air circulation
Automated with Dust sensor, Light sensor, Auto, Silent and Sleep settings
Quiet operation with a noise level of 21.6 – 58 dB
Cons:
Expensive compared to other air purifiers
Loud operation at the highest speed levels
Limited coverage area compared to higher-end models
Check Best Prices on Lazada
Check Best Prices on Shopee
3. Coway LOMBOK III AP-1520C Air Purifier
The Coway LOMBOK III AP-1520C Air Purifier is a revolutionary air-cleaning device that offers powerful air purification for parents with kids or pets. This air purifier features a Coway RBD Plasma for enhanced sterilisation capacity, an ioniser for eliminating activated oxygen and static electricity, and a double HEPA filter to inactivate up to 99.999% of SARS-CoV-2 Omicron Variant and Human Coronavirus (HCoV-OC43). It also has fine dust and odour indicators to give you real-time updates on PM 5 levels. The advanced 6-step filtration can provide air purification up to 50m2, allowing you to keep your home clean and safe.
An ioniser in the air purifier is essential, as it eliminates activated oxygen, which can harm your family's health. The Coway LOMBOK III AP-1520C Air Purifier ensures that your family remains protected from these toxins, and the risks of infection are significantly reduced. Additionally, the double HEPA filter provides powerful filtration to inactivate human coronaviruses, ensuring that your family has a safe and healthy breathing environment in your home.
For parents with kids or pets, the Coway LOMBOK III AP-1520C Air Purifier is essential for keeping your family healthy and safe. It provides powerful air purification and filtration, ensuring that your home is free from harmful toxins and bad odours and that your family is protected from dangerous viruses. So if you're looking for an air purifier that offers superior air cleaning, this air purifier is a perfect choice. Don't waste more time – get yours today and keep your family safe!
Pros:
Powerful protection with Coway RBD Plasma and Ioniser
Advanced 6-Step filtration to effectively remove indoor pollutants and ensure clean indoor air
Double HEPA Filter has proven to inactivate up to 99.999% of SARS-CoV-2 Omicron Variant and Human Coronavirus (HCoV-OC43)
Real-time updates on the level of microfine dust particles (PM 2.5) and the presence of strong odours in the air
Cons:
Relatively expensive.
Noisy, especially at maximum fan speed.
A bit bulky, taking up a larger space.
Check Best Prices on Lazada
Check Best Prices on Shopee
4. Coway BREEZE AP-1018F Air Purifier
The Coway BREEZE AP-1018F Air Purifier is an excellent choice for any homeowner looking for a reliable air purifier. This powerful machine features 4-step custom filters, effectively removing indoor pollutants for a cleaner, more breathable air. Furthermore, the Automatic and Turbo modes allow for the personalisation of air purification, allowing you to tailor the device to your needs.
A great feature of this air purifier is the Smart ECO Mode which automatically puts the air purifier on standby when the indoor air is clean. This helps conserve energy and save on costs, keeping your wallet full and happy. In addition, the device allows for controllable airspeed from silent to speed 2 and a controllable LED indicator to show air pollution levels easily.
At the end of the day, the Coway BREEZE AP-1018F Air Purifier offers reliable and efficient air purification with several convenient features that any homeowner would be thankful for. If you are in the market for a high-quality air purifier, look no further than the Coway BREEZE Air Purifier.
Pros:
Captures particles, odours and harmful gases, ensuring clean indoor air.
Automatic and turbo modes provide convenience and flexibility.
Smart ECO mode reduces electricity consumption when the indoor air is clean.
Controllable air speed and LED indicator for optimal usage.
Cons:
It can be noisy at higher speeds.
Not suitable for larger-sized rooms.
Expensive compared to other air purifiers.
Check Best Prices on Lazada
Check Best Prices on Shopee
5. Coway TUBA AP-3008FH Air Purifier
The Coway TUBA AP-3008FH Air Purifier is a great choice for improving indoor air quality. With its Smart Sensors, it can detect the levels of indoor air pollution and quickly adjust the airflow speed accordingly. The Smart A3 Saving Mode is also helpful, as it can detect dust particles and perform filtration without manually operating. And with its broad coverage, this air purifier can cover up to 93m² square feet – more than enough for most households.
Not only will this purifier help to keep your indoor air clean, but it also helps to protect your health with its five-stage air purification system consisting of a Pre-Filter, Medium Filter, Anti-Microbial Filter, Deodorisation Filter and HEPA™ Filter. This ensures that contaminants or allergens are filtered out, leaving only clean, breathing air behind.
If you're looking for a robust, reliable and effective way to reduce indoor air pollution at home, the Coway TUBA AP-3008FH Air Purifier may be a perfect choice. With its extensive features and advanced purification system, it's sure to provide you with peace of mind for years to come – so why not give it a try?
Pros:
Filters 99% of dust, germs, mildews, and air pollutants
Intelligent sensors detect air quality levels for optimal air purification
The large coverage area of up to 93m² square feet
Combines all stages of filtration from pre-filter to HEPA™ filter for advanced air purification
Cons:
Noise levels might be too loud for some users
Expensive product
Check Best Prices on Lazada
Check Best Prices on Shopee
Price Comparison in Malaysia
The prices of Coway air purifiers vary depending on the model and features offered. Generally, a higher-end model will cost more than a basic version.
The Coway BREEZE AP-1018F, for example, retails at around RM 2,500, while the top-of-the-range Coway Noble AP-2021A costs as much as RM 4,700. While options may be available between this range, such as the mid-range LOMBOK III AP-1520C Air Purifier, which retails at RM 3,490, all these prices can still be quite steep compared to other brands offering similar products. However, considering all that comes with a Coway product, like its 4-stage filtration system combined with its extensive smart features along with its availability on a monthly rental basis, makes it an unbeatable offer worth investing in.
Unique Features of Coway Air Purifiers
From their 4-stage filtration system to the available monthly rental plans and Energy Star certification, Coway air purifiers come packed with various features that make them one of the best choices for air purification. Read on to find out more!
4-Stage Filtration System
Coway air purifiers come equipped with a powerful 4-stage filtration system that helps capture and eliminate air pollutants. The four stages of filtration include Pre-Filter, True HEPA Filter, Activated Carbon Filter and Anti-bacteria Enzyme Filter. The Pre-filter captures the large dust particles in the air, such as an allergen, pet dander and pollen.
At the same time, the True HEPA filter eliminates up to 99.97% of particulates in size as small as 0.3 microns, such as smoke, dust mites and mould spores out of your living space. The Activated Carbon filter is designed for deodorisation purposes by helping to absorb unpleasant odours from pets or cooking smoked food. In contrast, the Anti-bacterial enzyme filters help to reduce the growth of bacteria and other microorganisms inside your home environment. With this combination of superior technologies under its hood, you can be confident that Coway air purifiers can deliver unparalleled cleanliness at all times in your home or office.
Smart Features
Smart features can be found in most Coway air purifiers, allowing you to enjoy a tailored clean air experience. These modern features enable users to control the fan speed and other settings at the press of a button. The Coway Noble AP-2021A Air Purifier has several advanced smart features such as real-time PM2.5 monitoring, automatic detection & auto mode for different scenes, and an auto timer with up to 12 hours delay option. With these functions, you can have better control over your indoor air quality depending on what's going on around you.
Additionally, some of the newer Coway models have voice control options with compatible Google or Amazon assistants so that all adjustments are carried out hands-free! The LED display regularly updates filter life and allows for notifications when it is time for maintenance or when filters need a replacement for optimal performance levels.
Automatic Mode
This mode automatically adjusts the fan speed according to the amount of pollution detected in your room. With Coway air purifiers, this advanced feature provides optimal indoor air quality without any hassle on your part, as it will switch from low to high fan speeds depending on how much dust and allergens are trapped in its filter. This way, you no longer have to manually adjust your air purifier each time there is a change in outdoor temperature and humidity levels or when more people gather in the room.
The auto mode also helps reduce energy consumption since it only runs at full power when needed and will run quieter (at lower fan speeds) during normal usage. Additionally, this feature comes with a timer that allows you to set when you want your Coway air purifier to start running so that you can maintain good indoor air quality even while away from home.
Available on a Monthly Rental Basis
Coway air purifiers are ideal for those looking to keep their home clean and safe all year round. Fortunately, these devices are also available to rent every month in Malaysia. This means you can access the highest quality air purifiers without spending too much upfront. In addition, opting for a monthly rental plan would allow you to adjust your subscription as needed –switching out an old model or trying out new models every now and then.
However, if you like keeping up with the latest technology and features, subscribing for the long-term might not be feasible since newer models tend to come with better performance or additional features such as noise reduction technology or increased energy efficiency. Signing up for flexible rental plans from reliable manufacturers like Coway could ensure that your home stays fresh and free of allergens even when operating on a budget!
Energy Star certified
Coway air purifiers are Energy Star certified, meaning they meet the requirements for energy efficiency set by the Environmental Protection Agency. With state-of-the-art engineering, Coway has achieved impressive levels of efficiency that make its products stand out among other brands in Malaysia.
Factors to Consider
Let's look further into this to ensure you get the most out of your purchase!
Size of the Room
It is important to consider the size of the room when purchasing a Coway air purifier in Malaysia. Depending on the size of the room, you will need a different model and power level for the efficient operation of your device. Generally speaking, Coway has various models of different sizes, covering rooms up to 150sq meters. For smaller rooms, such as bedrooms or small hallways, it's recommended that you purchase an air purifier that can cover up to 50 sqm. On the other hand, if you have larger living spaces such as multiple-storey houses and office buildings, then it's advisable to get one that covers more than a 100 sqm area or opt for a multi-level installation option. Additionally, try to factor in any adjoining rooms so that the air purifiers reach all areas efficiently and don't waste energy.
Type of filters
Coway air purifiers have a four-stage filtration system that can effectively filter dust, pollen, pet dander, mould spores and other particles. The first stage involves the pre-filter, which traps large particles like hair and fur to prolong the life of the following filters. The second stage is the True HEPA filter which captures up to 99.97% of small airborne allergens, such as smoke or fine dust particles, down to 0.3 microns in size.
Next, there's an Activated Carbon Filter which adsorbs odours from cooking smoke and pets while blocking gases such as formaldehyde, etc., produced by furniture or cleaning products. Finally, there's an Ionizer feature which releases negative ions into the atmosphere for fresher air. All four filters work together to provide clean indoor air quality without producing any ozone gas – hence they are safe even for long-term use!
Noise Level
When shopping for an air purifier, the noise level is always a prime factor. The Coway air purifiers can remove particles from the air without making too much noise. Depending on your chosen model, these devices generate sound levels ranging from 20 to 50 dB in low fan speeds and up to 58 dB in high-speed fan settings. Generally speaking, most Coway air purifiers make noises quickly drowned out by background sounds like music or TV shows.
Price
Depending on your chosen model, the prices can range from RM2500 to RM4700. The price for each Coway air purifier depends on its features, such as the size of room coverage and type of filters. In general, Coway has one of the most competitively-priced high-end air purifiers in Malaysia compared to other brands. However, it is still important to compare prices between models and stores before making your purchase decision.
If you are looking for more affordable options, there are also monthly rental plans available at some authorised retailers where you can rent a Coway Air Purifier for less than one hundred per month.
FAQs
How Much Does a Coway Air Purifier Cost in Malaysia?
Depending on the size and model, you can expect to pay between RM2500 and RM4,700 for a Coway air purifier.
Where to Buy Coway Air Purifiers in Malaysia?
You can purchase your desired Coway air purifier from various trusted retailers, agents and outlets around the country. Of course, there is also a wide variety of options available online, with leading eCommerce websites like Shopee and Lazada offering great deals on specific models.
Which Coway Air Purifier is The Best?
Malaysia's best Coway air purifiers include the Coway Noble AP-2021A, Coway LOMBOK III AP-1520C, and BREEZE AP-1018F models. To answer this question specifically, you must first determine your needs. Are you looking for an affordable option or one with advanced features? Do you need something portable, or do you have enough space in a large room?
All three come with 4 stages of filtration technology to ensure clean and purified air around your home. Aside from these three types, another popular model is STORM AP-1516D, with a high Clean Air Delivery Rate (CADR).
So depending on what kind of features suits your requirement and budget, choose one that fits all these criteria and be assured that it will provide a healthier living environment within home spaces without breaking the bank!
Who Should Buy?
Coway air purifiers are a great choice for any homeowner seeking an effective and affordable way to improve the quality of their home's air. Coway products provide superior filtration capabilities and are capable of trapping even the most microscopic particles, making them especially beneficial for people with allergies or respiratory sensitivities.
Additionally, its sleek design makes it fit into virtually any interior decor space without looking too obtrusive. Furthermore, some Coway models offer monthly rental plans, which may be attractive to renters or those who have limited budgets but still want to enjoy the clean and fresh air at home with ease.
Conclusion
Practically, there is no one best Coway air purifier that suits everyone's needs and budget. The right air purifier for you will depend on the size of the room, the type of filters needed, the noise level and the price. By comparing the features, price and installation cost across different models available in Malaysia, you can choose the best Coway air purifier for your home.