With so many brands of air purifiers available on the market nowadays, it can be challenging to decide which one to get. But if you're looking for an energy-efficient and smart design with unique features such as an advanced multi-filtration system and 360° Purification technology, then the LG air purifier would definitely be something you need. This blog post will give you an overview of LG Air Purifiers and their top-rated models in Malaysia that are worth considering. So keep reading!
Overview
LG has been at the forefront of innovative technology for years, and its commitment to improving quality of life through its products is evident in its collection of air purifiers. These devices are designed with smart features that can detect pollution and particles in the space they occupy and then take action against them by filtering out dust, pollen and other allergens. That way, it keeps your indoor environment safe and clean – so you can breathe easily!
LG's range of air purifiers offers unparalleled protection from airborne toxins like dust mites, mould spores, bacteria etc., as well as various odours courtesy of advanced Multi-Filtration systems, which includes Activated Carbon Filter or HEPA filters. Furthermore, with its 360° Purification design that uses both suction ports located at the top and bottom simultaneously, each side evenly draws in polluted indoor air leaving no corner untouched – thus ensuring uniform cleaning for maximum efficiency.
Top-Rated LG Air Purifiers in Malaysia
Suppose you are looking for the best air purifiers to protect your family from indoor air pollutants. In that case, you definitely need to check out our list of top-rated Air Purifiers in Malaysia. Read on and find out more!
1. LG PuriCare AS10GDPB0 360º Air Purifier Dual Booster
Breathe easier and cleaner air with the LG PuriCare AS10GDPB0 360º Air Purifier Dual Booster! From its Multi-Filtration System to its Safe Plus Filter, this air purifier will have your home feeling like a healthy oasis. With its unique 360° Purification feature, you can enjoy purified air all around you – not just in a tiny spot. Plus, the Direct Fan reduces air resistance for powerful air purification.
With the LG PuriCare Air Purifier, you can rid your home of bacteria, viruses, dust, and allergen particles that can easily make living conditions unbearable. Its deodorisation filter also eliminates any harmful gases from your home. Instantly your air will become fresher and more pleasant to breathe, ensuring you and your family get the best quality air possible. Additionally, the LG PuriCare Air Purifier is effective, efficient and quiet. So you won't be disturbed by any loud and clanky noises.
Don't waste another day breathing in unclean and unhealthy air! The air purifier answers all your air purification needs. This intuitive air purifier will detoxify your home and add a refreshing scent to your everyday life. So why wait? Take control of your home's air quality today with the LG PuriCare Air Purifier!
Pros:
Advanced Multi-Filtration system removes 99.9% of bacteria, viruses, dust and allergens.
A deodorisation filter eliminates harmful gases to keep the air clean.
360° Purification purifies the air all around you.
Clean Booster delivers clean air 24% faster than the standard model, ensuring the air is free of impurities.
Cons:
Expensive initial cost
Loud fan noise
Limited colour options
Check Best Prices on Lazada
Check Best Prices on Shopee
2. LG PuriCare AS65GDPB0 360º Air Purifier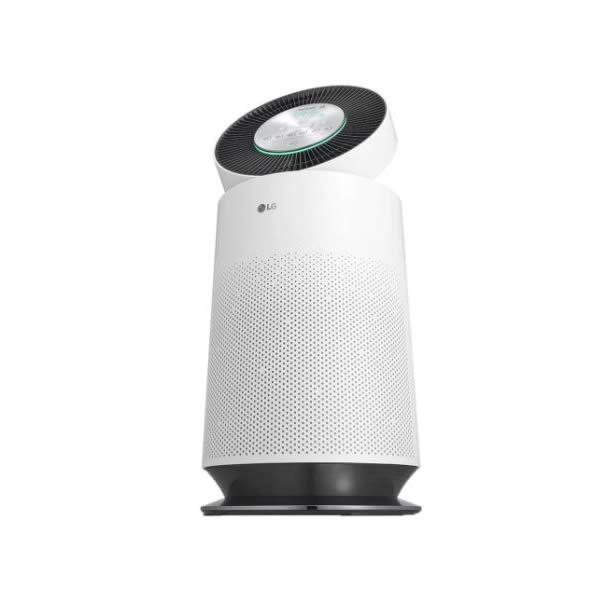 Advanced Multi-Filtration System
The LG PuriCare AS65GDPB0 360º Air Purifier is the perfect choice for any home and for anyone who wants to experience clean and purified air. The multi-filtration feature captures unwanted particles like bacteria, viruses, dust, allergens, and more. Additionally, the Safe Plus filter effectively removes these particles and helps eliminate harmful gases from the air. With the 360˚ Purification feature, you can be sure that every corner of your home will be filled with clean air.
Moreover, this air purifier comes equipped with a Smart Sensor that detects air quality and a colour-coded indicator system based on a PM0 sensor. This allows you to check the quality of the air anytime. The device also comes with an easy-to-use touchscreen display that makes it simple to control the device settings.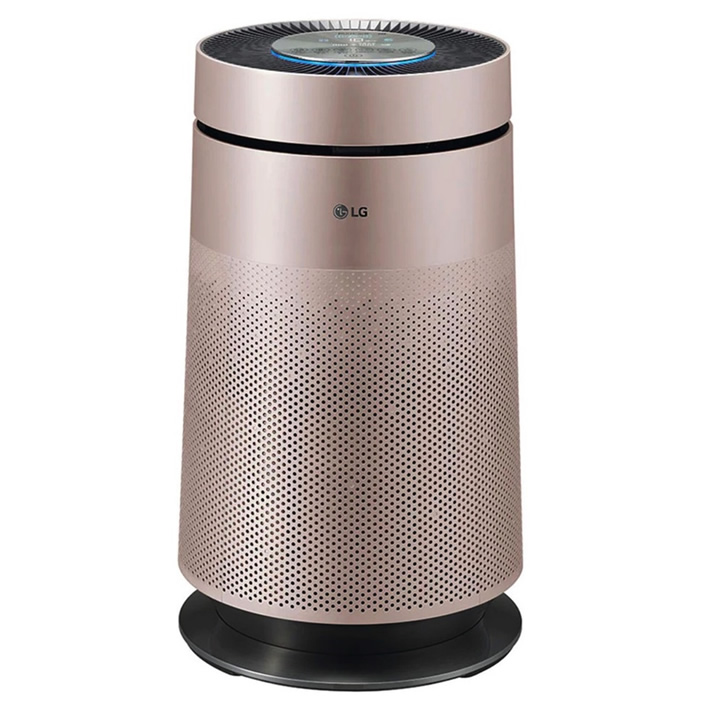 In conclusion, if you are looking for an air purifier that can effectively and reliably clean the air in your home, then it is definitely worth considering. With its robust features and reliable performance, you can rest assured that you'll always breathe clean air. So why not get one today and start experiencing healthier air!
Pros:
Multi-Filtration System captures bacteria, viruses, dust, allergen and odour components
Deodorization Filter eliminates harmful gases such as formaldehyde and toluene
360˚ purification purifies the air all around you
Smart Sensor & Indicator provides real-time air quality data
Cons:
Expensive compared to other air purifiers
Noisy when operating at a high level
Limited warranty coverage of one year
Check Best Prices on Lazada
Check Best Prices on Shopee
Price Comparison in Malaysia
Regarding air purifiers, LG is always an excellent choice for homeowners in Malaysia. Not only do their products come with advanced features and smart capabilities, they are also known for being affordable. So if you're on the hunt for an LG air purifier that fits your budget, here's a comparison of the prices of different models available in the Malaysian market:
The LG PuriCare AS65GDPB0 360º Air Purifier carries a price tag of RM2,400, while the more powerful model, LG PuriCare AS10GDPB0 360º Air Purifier Dual Booster, has an estimated retail price of RM4300++. The latter offers enhanced air cleaning performance and additional features such as auto mode and timer setting. Moreover, both models provide excellent energy efficiency, so you won't be wasting too much power even running them all the time.
Unique Features of LG Air Purifiers
From the advanced multi-filtration system to 360° purification, energy-efficient design and quiet operation, check out all the features of LG Air Purifiers!
Advanced Multi-Filtration system
The multi-filters can break down airborne particles such as harmful gases, dust mites, pet dander and even smoke in tiny pieces for easier removal from the room. A combination of True HEPA filters, carbon prefilter, photocatalytic filter, and ionisation help reduce up to 99.97% of pollutants while eliminating dangerous ozone emissions so that you can breathe comfortably in your own home at all times. An advanced 4-step filtration process designed with innovative Air Motion technology allows air pollutant particles over 0.3 microns or smaller to be filtered out quickly and efficiently, ensuring maximum protection against indoor air pollution.
 360° Purification
One of the most impressive features of any LG air purifier is its 360° Purification technology. This innovative feature utilises a cylindrical air inlet and outlet design, with three layers of filters that work together to provide maximum coverage of your home or office. The multi-layer filter cleans airborne particles and odours, trapping dust, pollen, pet dander, smoke, and other pollutants while neutralising bad smells. This powerful system effectively removes contaminants from your indoor environment. Also, it helps reduce energy consumption thanks to its efficient airflow circulation throughout rooms up to 394 square feet in size.
Smart Features
Being conscious of air quality is becoming increasingly important in today's society. Luckily, LG Air Purifiers are designed with smart features that offer a convenient way to monitor the air around you at all times. The intuitive sensors on the LG PuriCare AS10GDPB0 360º Air Purifier Dual Booster can detect even the slightest changes in air quality around you, allowing for optimised operation. It also offers an auto mode, which means it will adjust its fan speed based on how polluted the environment is.
Its intuitive user interface lets users quickly check things like filter life expectancy or room pollution levels by connecting their devices to the purifier through a Wi-Fi or Bluetooth connection. This makes monitoring your air more accessible than ever before! Additionally, many LG models come with voice activation so that users don't have to control their devices manually; they can use voice commands!
Energy-Efficient Design
When selecting an air purifier, choosing one with an excellent energy-efficient design is essential. LG's range of air purifiers has a plan that enables them to operate in the most efficient way possible while using minimal energy. This will save you money on your electricity bill and also helps reduce your carbon footprint. All LG air purifiers are designed with multiple sensors, such as motion and dust particle sensors, which detect pollutants in the air and automatically adjust their power to maintain optimum performance. With advanced technology like this, you can be sure your home or office space will be well taken care of with an energy-efficient product from LG!
Quiet Operation
When shopping for an air purifier, one of the essential features to look out for is noise level. Since this appliance will run 24/7 in your home, you need it to be as quiet as possible during operation. Luckily, LG air purifiers are designed with a unique Quiet Mode (Min), which runs the unit at just 20dB and helps maintain the right balance between noise level and filtration performance. The incorporation of low-noise technologies like a Bluetooth smart fan control system help keep these models ultra-quiet while ensuring efficient air purification capabilities.
Factors to Consider
Knowing what to look for when purchasing an LG air purifier can help you choose the best one that meets your requirements. Read on to find out more!
Size of The Room
When you are in the market for an LG air purifier, it's important to consider the size of the space you need to clean. The larger your room is, the bigger and more powerful the air purifier best suits your needs. Otherwise, if you buy an air purifier that is too small or not powerful enough for your space size, it may fail to do its job correctly. On top of that, LG offers numerous types of air purifiers with different cleaning power and coverage based on the size of rooms, from small kitchens to large living rooms. So make sure to check out every option available before making any purchasing decision. Furthermore, most LG air purifiers come with innovative features such as Pure Booster technology, which allows them to cover a greater area than usual for enhanced purification performance ensuring optimum cleaning efficiency regardless of how big or small your room is!
Type of Filters
When it comes to air purifiers, the type of filter used plays an essential role in eliminating airborne pollutants from your home. LG air purifiers are equipped with advanced multi-filtration systems that use a combination of filters to capture particles. LG's most common filters include HEPA, prefilter and anti-bacterial filters.
Additional Features
Are you looking for air purifiers with additional features? LG air purifiers have plenty of features to keep your home clean and comfortable. The main benefit of these other features is that they can save energy and money in the long run. With their advanced filtration system, users can choose various fan speeds according to their needs without worrying about excessive noise levels. Additionally, some models come with a timer, so you can set it up to turn on or off at specific times throughout the day. Some more advanced models even feature an auto mode which adjusts the airflow depending on the air quality in the room. This is especially useful if you want a consistent daily cleaning without constantly adjusting.
FAQs
How Much Does an LG Air Purifier Cost in Malaysia?
The cost of an LG air purifier in Malaysia depends on your chosen model. Prices range from RM2,400 to RM4,000 or more, depending on size and features.
Where to Buy LG Air Purifiers in Malaysia?
The most reliable and convenient way to purchase an LG air purifier is online. The official website of LG Malaysia offers a range of models with genuine product warranties and after-sales services. Additionally, online stores like Lazada, Shopee, Senheng and Harvey Norman also provide access to all original products at the lowest prices. You can find helpful product reviews and detailed specifications on their websites to help you choose the best model for your home.
You can also visit major electronic shops like Courts Megastore or Best Denki outlets located in almost every shopping mall across the country. Sales staff will be happy to assist you in selecting the perfect model suited for your needs according to your budget.
Who Should Buy?
The LG air purifier is designed for people who want to improve the quality of their home's air. It can benefit anyone who wants to reduce dust, pollen, other allergens and airborne contaminants from their indoor space.
In particular, those with respiratory problems or allergies may find that using an LG air purifier will help lessen the impact of irritants on their health. It also works well in homes with pets as it helps reduce pet dander floating around in the air.
Those living in areas where pollution levels tend to be high may find this device helpful in reducing toxic particles from entering their home environment. Finally, since most LG Air Purifiers feature low noise operation, they are especially ideal for bedrooms and nurseries where good sleep conditions are essential.
Conclusion
LG air purifiers are a great way to combat the health hazards posed by indoor air pollution. With robust filtration systems, smart features and energy-efficient designs, LG air purifiers can give you clean and healthy air in your home. When shopping for an LG air purifier in Malaysia, look for factors like the size of the room, type of filters used, additional features offered, and product price. With this information at hand, you'll be able to find the perfect LG Air Purifier that suits your needs and budget!