Are you looking for an air purifier to eliminate airborne pollutants in your home? One highly recommended brand is Panasonic, a world leader in air purification technology. With their advanced and innovative nanoe™X Purification Technology, Panasonic's range of air purifiers offers superior filtration capabilities, effectively removing dust mites, pet dander, bacteria, and viruses. The perfect choice if you want to provide a healthy indoor environment for your family!
In this blog post, we will explore the best Panasonic Air Purifiers available in Malaysia, from the features they offer to the factors you need to consider before making a purchase. So join us on our journey as we discover all there is to know about these top-notch air filters – so read on by clicking through now!
Overview
Panasonic offers some of the best air purifiers designed to help reduce allergens, odours, smoke and other contaminants from your home or office. Panasonic's air purifiers come with a variety of features, including advanced nanoe™X Purification Technology, which can capture particles as small as 0.003 microns for ultra-fine particle removal; auto-sleep mode for reduced noise during the night time; compact size for easy portability; energy-efficient design for long-lasting usage; better local support & warranty so you can rest assured that after-sales service is available if needed;  and much more!
3  Top-Rated Panasonic air purifiers in Malaysia
Discover which of the top-rated Panasonic air purifiers best suit your needs in Malaysia, and find out how they can help you breathe better.
1. Panasonic F-PXM35ASM
Parents looking for ways to improve the air quality of their homes should strongly consider the Panasonic F-PXM35ASM Air Purifier. This device utilises non-humidifying nanoe™ Technology to keep your home's environment healthier and more comfortable. It also comes equipped with a HEPA filter, which removes 0.3µm particles up to 99.97%, and a Super Alleru-buster, which inhibits allergens up to 99%. Plus, the Green Tea Catechin integrated into the device inhibits up to 99% of viruses.
The air purifier has a direct front suction, which captures dust from 0cm to 30cm near the floor, ensuring that parents can be sure that their home is always free from dust. Additionally, the ioniser emitted by the device helps to break down any unpleasant odours present in the house while also improving the overall air quality.
This air purifier is an excellent investment to make for your family's health. This air purifier will surely provide you with the clean air you deserve. Don't miss out on the chance to freshen up your home and buy the Panasonic F-PXM35ASM Air Purifier today!
Pros:
Reduces allergen content, thus improving air quality and preventing allergies
HEPA composite filter removes 0.3µm particles up to 99.97%
Super Alleru-Buster and Green Tea Catechin can inhibit specific allergens and viruses up to 99%
Direct FRONT Suction captures dust from 0cm to 30cm near the floor
Cons:
Does not have automatic settings or remote control capability
Check Best Prices on Lazada
Check Best Prices on Shopee
2. Panasonic PSN-FPXJ30AHM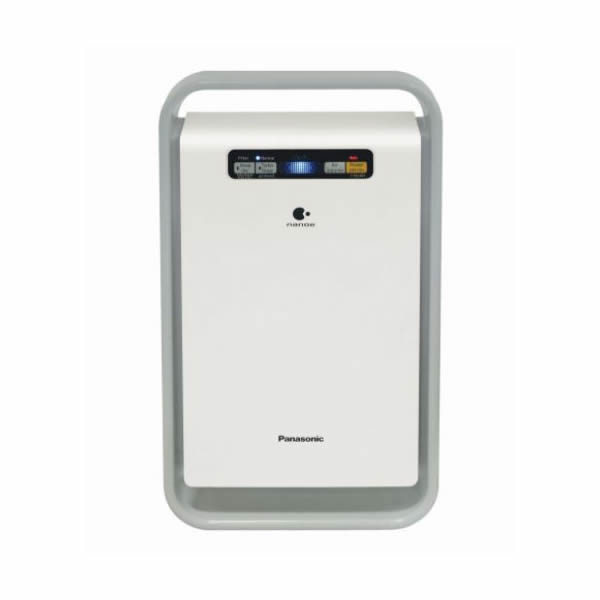 Budget Pick
The Panasonic PSN-FPXJ30AHM Air Purifier is an ideal choice for any home. It is aesthetically pleasing, with a minimalistic design and three different colours to choose from, and offers unrivalled high-quality air purification. The nanoe™ purification technology effectively removes harmful viruses and bacteria, while the 3D Circulation Airflow allows for efficient air purification. The Composite and deodorising filters ensure that the air is clean and free of hydrogen, odours, allergens, and other pollutants. Plus, the Odor Sensor allows you to keep an eye on the dirt levels in your home.
In addition, the air purifier helps provide a more comfortable atmosphere with its Auto mode and Sleep Mode (8 hours). This allows you to keep your air purifier running for extended periods without worrying about it being too loud or overworking itself. The Sleep Mode also ensures that your home is constantly being purified regardless of the time of day, making this the perfect choice for busy households of all sizes.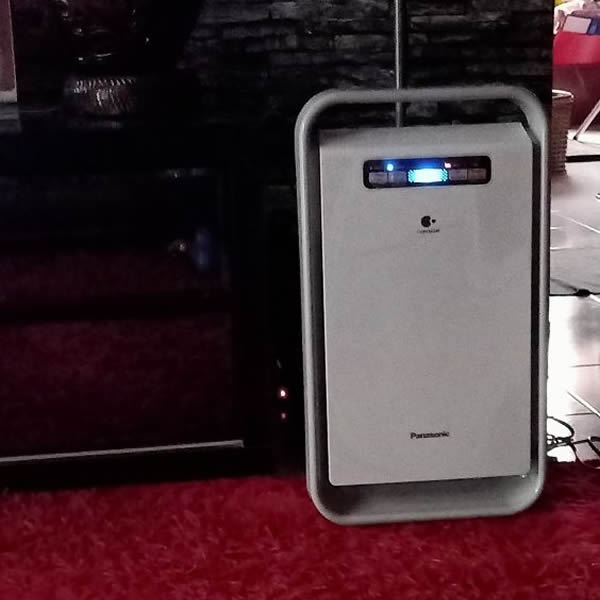 With this Air Purifier, you no longer have to worry about air quality. This state-of-the-art air purifier is designed to keep your home's air clean and free of pollutants so that you and your family can breathe comfortably every day! So, if you're looking for a high-quality air purifier that keeps your home's air clean and pure, look no further than the Panasonic PSN-FPXJ30AHM Air Purifier!
Pros:
Nanoe™ purification removes harmful particles from the air
3D Circulation Airflow circulates air efficiently and effectively
Composite filters and deodorising filters remove odours, bacteria, and allergens from the air
Auto mode adjusts the speed setting automatically according to the pollution level
Cons:
Noisy when running in Turbo Mode
The limited applicable area at 20m²
Expensive filter replacements
Check Best Prices on Lazada
Check Best Prices on Shopee
3. Panasonic F-GPT01AKM Portable Air Purifier
The Panasonic F-GPT01AKM Portable Air Purifier is a must-have for every homeowner. It has powerful nanoe™X Technology, which inhibits 99.9% of viruses and bacteria in 2 hours and 1 hour, respectively. It also deodorises your environment by reducing cigarette smoke odours to hardly noticeable in 1 hour. Not only that, but it also hydrates skin and hair with weakly acidic properties similar to human skin and hair.
This high-performance air purifier is the perfect solution for any home or office. It is compact, perfect for any environment without taking up much space, and it is only 0.4 kg, so you can easily carry it around and generate 8 trillion nanoe™X particles per second wherever you need it. Plus, its advanced features help keep your family safe and healthy by eliminating germs, bacteria, and other harmful particles in the air.
Overall, the Panasonic F-GPT01AKM Portable Air Purifier is a great way to enjoy clean air in your home or office. With its powerful features, you can rest assured that your family is safe from viruses and bacteria while enjoying fresher air. So what are you waiting for? Get the Panasonic F-GPT01AKM Portable Air Purifier today and enjoy cleaner air tomorrow.
Pros:
Inhibits 99.9% viruses (novel coronavirus (SARS-CoV-2), H1N1 and H5N1) and 99.9% bacteria (E.Coli 0157, MRSA) in 1-2 hours
Reduces strong odours in the environment within one hour
Hydrates skin and hair with its weakly acidic nature
Portable and lightweight design, with a size and weight of a coffee tumbler
Cons:
Not suitable for huge spaces
Difficult to clean and maintain
Check Best Prices on Lazada
Check Best Prices on Shopee
Price Comparison in Malaysia
Panasonic has a range of products available in Malaysia, varying prices to suit different budgets. This brand's most affordable air purifiers start at around RM400. In contrast, those with more advanced features may be priced at RM800 or higher.
The Panasonic F-GPT01AKM Portable Air Purifier is one of the most affordable models, costing just over RM400. It's ideal if you're looking for something portable and relatively cheap but delivers excellent performance and quality. For larger rooms, consider getting the Panasonic F-PXM35ASM Air Purifier, which has many impressive features such as auto mode and sleep mode, which can save energy while still delivering clean air in your living space throughout the day.
Unique Features of Panasonic Air Purifiers
Discover how Panasonic air purifiers have helped keep Malaysians breathing cleaner air with its powerful nanoe™X Purification Technology, Auto Sleep mode, Compact size, Energy-efficient design, and Better Local Support & Warranty – find out more about these features now!
Powerful nanoe™X Purification Technology
Panasonic air purifiers are equipped with advanced nanoe™X Technology, designed to effectively remove bacteria, viruses and other airborne pollutants from the atmosphere. This powerful nanoe™X filtration system uses an electrostatic media filter that captures particles as small as 0.3 microns. The electrostatic charge attracts even the smallest particles, such as dust, pollen, and smoke, to trap them in their filter without producing any ozone gas or strong smells – making Panasonic air purifier a great choice for households who want protection against all kinds of airborne contaminants.
Auto Sleep mode
With the 'Auto Sleep' mode feature on the Panasonic air purifier, you can now enjoy a peaceful sleep without distractions from whirring motors and filter fans. This unique feature helps detect when you are fast asleep by automatically adjusting the fan speed accordingly, reducing noise levels for a more comfortable environment. Additionally, this also helps conserve energy as well!
Compact Size
Homeowners today are conscious of the size and aesthetics of their home appliances. This is why Panasonic has designed air purifiers with a compact design that can fit into any space in your house. The shape, form factor and colour match other popular electronics or furniture, making it easy to blend with your existing environment seamlessly. These air purifiers have been designed to take up minimal real estate allowing you to place them even in the tightest spaces without creating clutter or taking too much visual space.
Energy-Efficient Design
Panasonic air purifiers are designed with energy efficiency in mind. They have been awarded a 5-star rating in Malaysia's government-mandated Energy Efficiency Labelling Scheme. This means that they use less electricity than other models on the market, helping you save money on your power bill. Additionally, these machines feature an Auto Sleep mode when not in use which further helps conserve energy. The efficient design also ensures that these devices do not heat up quickly, reducing the risk of accidental fires or electrical damage caused by overheating.
Better Local Support & Warranty
Panasonic is committed to offering its customers the best local service and guarantees for its products. With a fully equipped team of dedicated service personnel located throughout Malaysia, help is always available if you ever encounter any issues with your Panasonic air purifier.
Moreover, genuine spare parts from Panasonic can easily be sourced in stores around Malaysia, so repairs would not need to wait long while they are shipped from Japan or overseas.
Factors to Consider
Several factors must be considered before purchasing a Panasonic air purifier, from the size of your living space to the features that suit you best. Keep reading to find out more!
Size of The Room
The larger the size of your room, the stronger air purifier you will need for effective cleaning. Panasonic has a wide range of air purifiers designed for different-sized rooms, from smaller spaces to large living rooms. To choose a suitable one for your specific needs, you should measure your room's area in square meters or feet and look out for filters with CADR (Clean Air Delivery Rate) rating, which has proven its effectiveness in removing airborne particles, including pollen and dust mites at different speeds according to the filter type and speed settings. Besides that, ensure there is enough space around it so it can breathe properly without being obstructed by furniture or other items, which affects its performance too.
Type of Filters
Without a good quality filter, all other features in an air purifier will become useless. Fortunately, Panasonic ensures that its filtration system is equipped with powerful filters for optimal cleaning efficiency. Their HEPA filter can capture and trap up to 99% of airborne particles, including dust, pet dander, pollen, bacteria and mould, as small as 0.3 microns from your surrounding air and expel clean air instead. They also have activated carbon which removes odours from smoke and household chemicals like paint fumes from the air circulating around you. The nano-e Technology helps remove allergens such as dust mites by eliminating fungi growth too! Finally, they feature a pre-filter which captures larger particles like hair, so your primary filters will stay effective even longer without needing frequent replacements or cleanings
Additional features
The Panasonic air purifiers come with various additional features that make them an ideal choice for Malaysian homes. One of these features is the powerful nanoe™X Purification Technology that helps to capture and destroy airborne viruses, bacteria, pollen, dust mites and other harmful particles. This Technology also helps improve skin health by reducing exposure to allergens and pollutants in the air.
Other valuable features include Auto Sleep mode, which automatically adjusts airflow levels depending on the time of day; Compact size so you can easily fit it in any room; Energy efficient design that allows you to save money on electricity bills; as well as better Local Support & Warranty coverage meaning more peace of mind when using it at home.
FAQs
How Much Does a Panasonic Air Purifier Cost in Malaysia?
The cost of a Panasonic air purifier in Malaysia varies depending on the type and size you wish to buy. Generally, a small portable unit typically costs RM 400 for a basic model. But if you're looking for something more powerful with advanced features like nanoe™X Purification Technology and Energy-efficient design, it can go up to as high as RM 1000 or even higher.
Where to Buy Panasonic Air Purifiers in Malaysia?
Panasonic Air Purifiers can be purchased online from leading retailers such as Lazada and Shopee. The benefit of buying online is the convenience of comparing prices and features at the click of a button. Additionally, online purchases will have door-to-door delivery service, allowing customers to save on transport time and cost.
Alternatively, you may visit physical stores where you can ask specialised sales assistants any questions they might have when considering or comparing air purifiers.
Who Should Buy?
If you're a homeowner who's looking for an air purifier to help keep your home free from airborne pollutants, then the Panasonic Air Purifier is a great choice. The powerful nanoe™X Purification Technology of Panasonic can capture and trap particles as small as 0.03 micrometres, meaning it's highly effective in removing allergens like dust mites, mould spores, bacteria and viruses from the air. This makes it ideal for people with allergies or those wanting to protect their families against illnesses caused by airborne pollutants. Furthermore, the energy-efficient design ensures that using one of these devices won't cause an increase in electricity bills too much.
Conclusion
Investing in an air purifier is essential for every homeowner. Panasonic air purifiers are some of the best options in Malaysia due to their outstanding features, compact size and excellent local customer support. With this article, you can make an informed decision when choosing the best Panasonic air purifier that meets your needs and fits your budget.