Out of many options in the market today, Samsung Air Purifiers stand out for their top-notch quality yet affordable prices. If you're looking to buy a Samsung Air Purifier in Malaysia, keep reading as we share some insights about different types of Samsung air purifiers available here and everything you need to know before buying one! Read on to learn more about finding the best fit for your needs.
Overview
Samsung has provided Malaysians with a range of air purifiers that offer superior filtration performance, low noise levels and innovative features. Their range of products includes both window-type and freestanding models that can fit into different house interior designs.
All Samsung air purifiers come with powerful triple filters that effectively remove harmful particles such as dust mites, mould spores, smoke, pollen and odours from indoor spaces for up to 99%. Advanced features like multi-layered filter design capture up to 0.3 microns sized particles in layers while ensuring minimal energy consumption so that you save money on electricity bills. Additionally, most of these devices have a sleep mode setting which reduces overall energy consumed and makes them ideal for use even during nighttime when you need a purified but quiet environment.
3 Top-Rated Samsung Air Purifiers in Malaysia
If you are looking for a reliable and high-performing air purifier, check out these top-rated Samsung air purifiers to help you make an informed decision!
1. Samsung AX60R5080WD/ME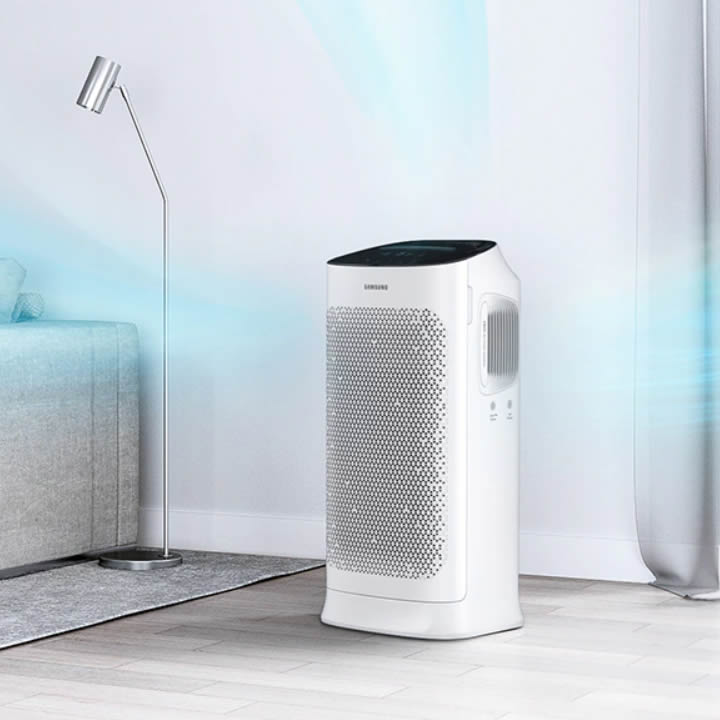 3-Way Air Flow
This air purifier features a 3-way air flow to rapidly and effectively circulate the air in large areas. Additionally, its multi-layered filtration system captures up to 99.97% of ultrafine dust and gases, allowing you to breathe in clean, filtered air. Its numeric display easily tells you your home's PM0/5/10 air pollution levels. At the same time, a 4-colour indicator helps you keep track of air quality. You can even move the purifier around with its hidden wheels, tilt it for better air circulation, or remotely control it with the SmartThings App.
This air purifier is an excellent choice for those looking for a top-of-the-line air purifier. Not only does it provide powerful filtration and efficient circulation, but it also offers convenient control through the SmartThings App. With this efficient and easy-to-use purifier, you can keep your air pollution levels at a minimum and enjoy fresh air in every corner of your home.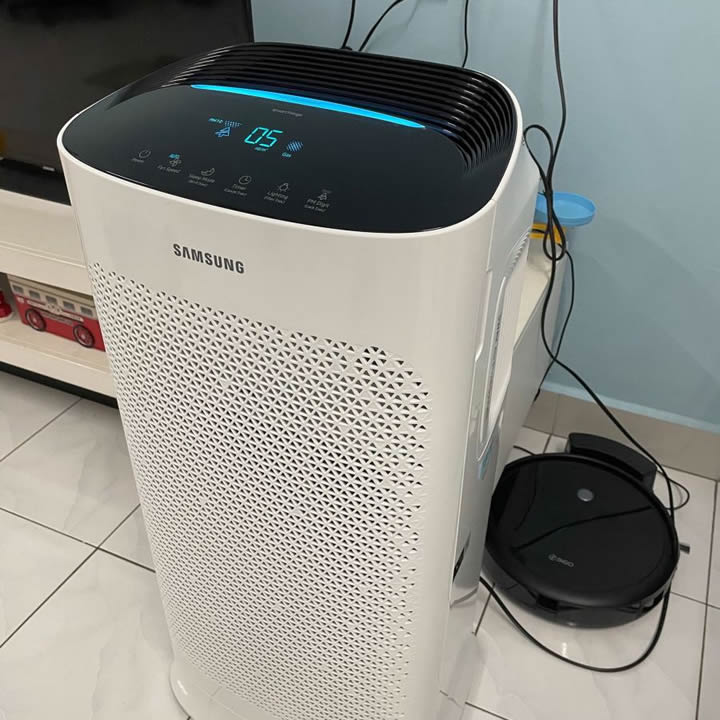 Don't settle for anything less than the Samsung AX60R5080WD/ME Air Purifier. It's the ideal solution for any home looking for clean and filtered air. With its powerful features and simple control, you won't regret investing in this air purifier.
Pros:
3-way airflow for faster purification and a higher CADR of 467 cu.m per hour
Multi-layered purification system filters 0.3micron-sized dust and harmful gases
Numeric display feature and 4-colour indicator for precise monitoring
Hidden Moving Wheels for easy movement and SmartThings App for remote control
Cons:
Noisy when running at high fan speeds
Limited coverage of 100 sq. ft.
No energy-saving features such as motion sensor or light sensor
Check Best Prices on Lazada
Check Best Prices on Shopee
2. Samsung AX34R3020WW/ME Air Purifier
As a homeowner, it's important to me to keep my home air clean and safe. The Samsung AX34R3020WW/ME Air Purifier is an ideal solution for this. No matter where I am in the house, I know the air is being filtered and purified by this unit. It utilises a 3-step filtration system that helps to capture and reduce over 99% of PM5 particles. At the same time, the 4-colour indicator gives me a visual representation of the air quality in my home.
The air purifier is also incredibly easy to maintain, thanks to its front-sided air inlet. This means I can quickly and easily replace filters without taking apart the unit. Furthermore, its Auto Mode and Sleep Mode ensure that the air quality in my home is always kept at an optimum level. In contrast, the Child Safety Lock provides that there are no accidental uses by children.
Overall, the Samsung AX34R3020WW/ME Air Purifier is ideal for anyone looking to keep their home air clean and safe. It has all the features I need to ensure that my home is always kept clean and healthy. So don't wait any longer; get your hands on this air purifier today and experience the difference it makes to your home's air quality!
Pros:
Purifies and deodorises the air using a 3-step purification system
4-Color Indicator displays real-time air quality level
Reduces over 99% of PM2.5
Easy to maintain with a front-sided air inlet and washable Pre-filter
Cons:
Noisy operation
High cost
No remote control
Check Best Prices on Lazada
Check Best Prices on Shopee
3. Samsung AX53A9370GE/ME Air Purifier
The way Samsung has designed the AX53A9370GE/ME Air Purifier is awe-inspiring. It's equipped with their Bespoke Design feature, allowing me to customise and configure it to fit my specific needs. This gives me greater control over the performance, making it more effective and tailored to my lifestyle. The 360° Air Purification also provides rapid and intensive purification even in large spaces. At the same time, Multi Sterilization uses a two-step process of sterilising bacteria and removing odours and toxic gases.
The WindFree™ Purification is also a great plus. It gently purifies spaces with no direct wind and less noise, making it ideal for home and office environments. And its Smart Purification is quite impressive – the Micro Air Sensor detects dust particles and gases, and the Ambient Light Sensor adjusts the display brightness for added convenience.
In conclusion, I was thoroughly impressed by the features and design of the Samsung AX53A9370GE/ME Air Purifier. With its 360° Air Purification, Multi Sterilization, WindFree™ Purification, and Smart Purification features, I can ensure that my home is free of pollutants and odours while also ensuring that my family is breathing safely. I'd highly recommend this air purifier to anyone looking for an effective and reliable way to improve the air quality in their homes.
Pros:
Customizable Design: Tailor the design to fit your unique lifestyle needs
360 Air Purification: Purify the air rapidly and intensively, even in large space
Multi Sterilisation: Sterilizes bacteria, removes odours and toxic gases
WindFree™ Purification: Purify areas with less noise and no direct wind
Cons:
Expensive unit cost
Inability to filter out harmful gases like carbon dioxide & carbon monoxide
Comfort level decreases due to airflow when in high mode
Check Best Prices on Lazada
Check Best Prices on Shopee
Price Comparison in Malaysia
Knowing the price range is critical when choosing the right air purifier for your home. Samsung air purifiers offer a wide range of options that fit any budget.
The Samsung AX34R3020WW/ME Air Purifier offers a blend of features and quality at an affordable price. It is priced at around RM750 in Malaysia, making it an ideal choice for those on smaller budgets or who want to save money without compromising on quality.
The AX60R5080WD/ME also stands out when it comes to pricing. This model has all the essential features needed while still fitting within a mid-range budget of around RM1,299 in the Malaysian market. This makes this solution perfect for households on tighter budgets looking for affordability but with ample power and advanced functions.
Lastly, the most premium product from Samsung's lineup is their top-end model – AX53A9370GE/ME Air Purifier, which typically starts from RM2799 in Malaysia market due to its expanded coverage area and latest filtration technologies such as Multi-layered Filter System.
Unique Features of Samsung Air Purifiers
From its 3-way airflow for faster purification to its Multi Sterilisation technology, Samsung air purifiers are packed with innovative features that promise a cleaner and healthier environment. Keep scrolling to find out more!
3-Way airflow for faster purification
If you are looking for an air purifier that can quickly clean your room in no time, then Samsung's 3-way airflow technology can give you just that. This feature emits purified air from the top, sides and bottom of the device to create a consistent flow that reaches all corners of the room. The Samsung AX60R5080WD/ME Air Purifier has this advanced airflow system which distributes purified air up to 34m² much more quickly than other models on the market. With this technology, you won't need to wait as long for your room to be thoroughly cleaned by your Samsung Air Purifier!
Multi-layered purification system filters 0.3micron-sized dust and harmful gases
Samsung's air purifiers are designed with a multi-layered filtration system that efficiently captures and eradicates up to 0.3 micron-sized dust, harmful gases, and other pollutants from the surrounding air you breathe. The integrated filtration process comprises genuine HEPA filters, Carbon filters and Nano Silver Filters, which work together to trap airborne particles like pollen, pet dander, mould spores and smoke effectively. All three layers act diligently with Samsung's powerful suction technology to ensure clean air throughout your home or office space, wherever you may be.
These advanced filtering systems not only detain large particles such as dust mites but also break down biological toxins such as formaldehyde in everyday items like furniture polish and detergents. Furthermore, these machines' nanosilver filter eliminates bacteria that other models might have overlooked. In contrast, the carbon filter works its magic on unpleasant odours giving out fresh fragrant air!
Numeric display feature
The numeric display on Samsung air purifiers is an excellent addition to the overall user experience. This feature allows you to easily keep track of your air quality and the performance of your device with just one glance. The digital display will give you real-time updates on the number of airborne particulates and contaminants detected or any warning notifications that need addressing immediately, allowing you to adjust settings accordingly for optimal results. You can also see what type of filter needs replacing based on how long it has been in use
Multi Sterilisation: Sterilizes bacteria, removes odours and toxic gases
Samsung Air Purifiers come with a multi-sterilisation feature that not only sterilises bacteria and germs but also removes odours and toxic gases. This ensures that the air around you stays fresh, healthy, and free from airborne contaminants that could cause health issues for yourself or your family. The unique purification system of Samsung air purifiers also includes High-Density Activated Carbon filters which effectively remove harmful gases like formaldehyde, benzene, and ammonia from the surrounding environment. Not only does this help improve indoor air quality, but it can also relieve allergies caused by these pollutants in the long run.
WindFree™ Purification
The WindFree™ Purification system allows users to enjoy cleaner, fresher, and healthier air without traditional fans' noise or direct wind. It works by dispersing purified air slowly and quietly through hundreds of micro-holes in an array. This provides an even distribution pattern that reaches every corner of the room while providing a pleasant environment with no direct wind.
This process consumes less power than conventional systems as it takes longer to circulate the same amount of air over a wider area at lower speeds than traditional fan-based circulation models. Furthermore, you can also monitor how much clean air has been circulated using its numerical display reading feature, which shows information about running time and dust signals caught by the filter gauge depending on your model type.
Factors to Consider
Read on to learn more about the essential factors you need to consider when buying a Samsung air purifier.
Size of The Room
When purchasing a Samsung air purifier, it is crucial to consider the size of your room. This will determine the type of machine you should get and how powerful it needs to be. For example, if you have a larger living space, you'll need an air purifier with more power to effectively cleanse your home's air. On the other hand, if you are looking for an air purifier for your bedroom or office space, a smaller model would suffice as long as these areas aren't overly large. To ensure optimal performance and maximum efficiency of the Samsung Air Purifiers that are available in Malaysia, keep this factor in mind when making your choice.
Type of Filters
Samsung air purifiers come with different types of filters designed for various purposes. Most models are equipped with two or three layers of filtration, with an activated carbon filter being one of the most critical layers. The activated carbon filter can remove odours and harmful gases like formaldehyde from the air that passes through it. It also contains an antimicrobial coating which helps to capture and neutralise airborne germs and pathogens present in the air. Some models also contain specialised HEPA (High-Efficiency Particulate Arrestance) filters that effectively trap dust particles as small as 0.3 microns to ensure clean and healthy indoor air quality.
Additional features
Samsung provides customers with various features that make its models stand out from other brands. For example, The AX60R5080WD/ME Air Purifier is equipped with a 3-way airflow system which distributes purified air in three directions for faster and more efficient cleaning of the room.
The Multi-layered purification system filters dust particles as small as 0.3micron in size as well as harmful gases such as formaldehyde and benzene, while the Numeric display feature on some Samsung air purifiers can indicate to you the real-time indoor air quality based on particle density (PM2.5) or gas concentration levels such as VOCs or CO2 emissions.
FAQs
How Much Does a Samsung Air Purifier Cost in Malaysia?
The cost of a Samsung air purifier in Malaysia can vary considerably depending on your chosen model and features. Prices generally range from approximately RM 749 to RM 2779. The most expensive models offer more features, such as advanced filtration systems and additional settings for customised cleaning performance. It's important to note that larger units typically require higher upfront costs but may offer better value in the long run due to their ability to clean larger spaces or rooms with fewer filter changes.
Where to Buy Samsung Air Purifiers in Malaysia?
You can find a wide selection of Samsung Air Purifier models in major retailers like Harvey Norman, Courts, and Lazada Malaysia. The great thing about shopping online is the convenience and ability to compare prices across different stores. Online retail sites also often have exclusive promotions that could help shoppers save on their purchase.
Who Should Buy?
Samsung Air Purifiers are one of the best solutions for those who suffer from allergies, asthma, and other respiratory problems. These air purifiers use advanced technologies to filter out pollen, pet dander, smoke particles and other airborne allergens. Therefore, if you or your family suffer from such conditions, then Samsung is an ideal solution for improving the air quality in your home.
Additionally, Samsung air purifiers are designed with features that can remove harmful gases like formaldehyde which are known to cause harm on long-term exposure. So if you live near a highway or industrial area where these pollutants exist, investing in an air purifier is strongly recommended.
Conclusion
Whether you are looking for a quiet, powerful and energy-efficient fan or something more advanced with features such as wind-free purification and multi-layered filtration systems, Samsung has an air purifier that can meet your needs. Furthermore, they provide excellent value for money due to their competitive pricing in Malaysia. All in all, if you're looking for an air purifier that delivers superior performance while at the same time being easy on your pocket, then investing in a Samsung Air Purifier would be worth considering!