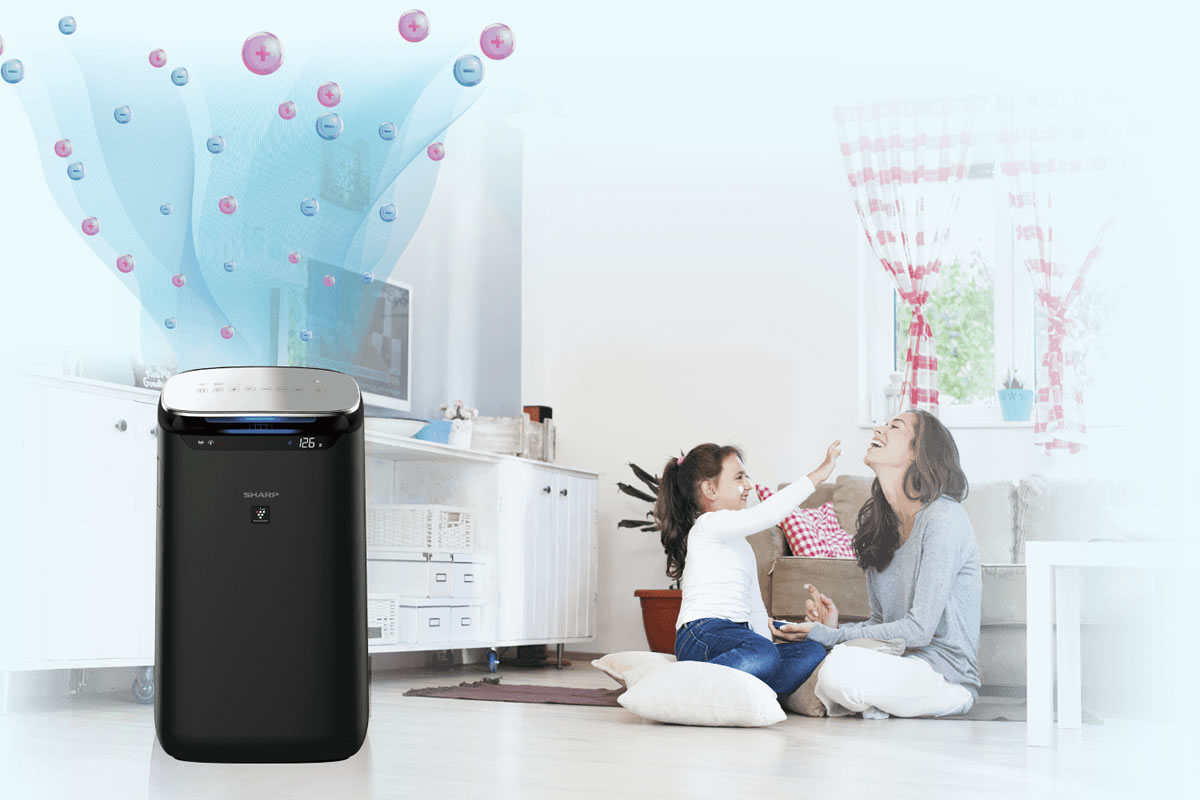 Sharp is one of the leading brands in air purification technology. Many great options are available if you're looking for a Sharp air purifier in Malaysia. In this review, we'll explore some of the top-rated Sharp air purifiers in Malaysia along with their features, comparisons of prices, and factors to consider before buying an air purifier from this brand so that you can make an informed decision on which one best suits your needs. Read on for more!
Overview
Sharp offers several types of air purifiers, ranging from basic models to more advanced options, with features like HEPA filters, plasmacluster ion technology, and other unique features that make them superior to other brands. These are all designed to trap dust particles, bacteria, pollen, smoke, viruses and other contaminants in your home or office space to provide a cleaner breathing environment.
All Sharp Air Purification Systems (APS) come with modern design so as not to clash with your interior decor while at the same time effectively cleaning the air circulating around you indoors. In addition, they are very energy-efficient, meaning they won't contribute much towards your electric bill. Even if you run the unit continuously throughout the day or night, power consumption levels remain low.
4 Top-Rated Sharp Air Purifiers in Malaysia
Here, we will discuss the top-rated Sharp air purifiers available in Malaysia, which are sure to help you keep your space clean and fresh. Keep reading to learn more!
1. Sharp FUA80EW Plasmacluster
The Sharp FUA80EW Plasmacluster Air Purifier is the perfect addition to any home. It features an advanced high-density Plasmacluster ion technology that efficiently removes airborne particles, such as dust, pollen and smoke. The two-in-one filter combines both HEPA and active carbon filters with a cover of up to 62m² in area. Conveniently, it also has a clean sign indicator light, so you know exactly when your air is purified.
You can set the automatic fan speed according to your needs at any given time and change it instantly without ever having to get off the couch! Additionally, you won't have to worry about constantly monitoring or maintaining this air purifier since its operation happens entirely on its own – meaning once you turn it on, all that remains is enjoying the fresh air with complete peace of mind!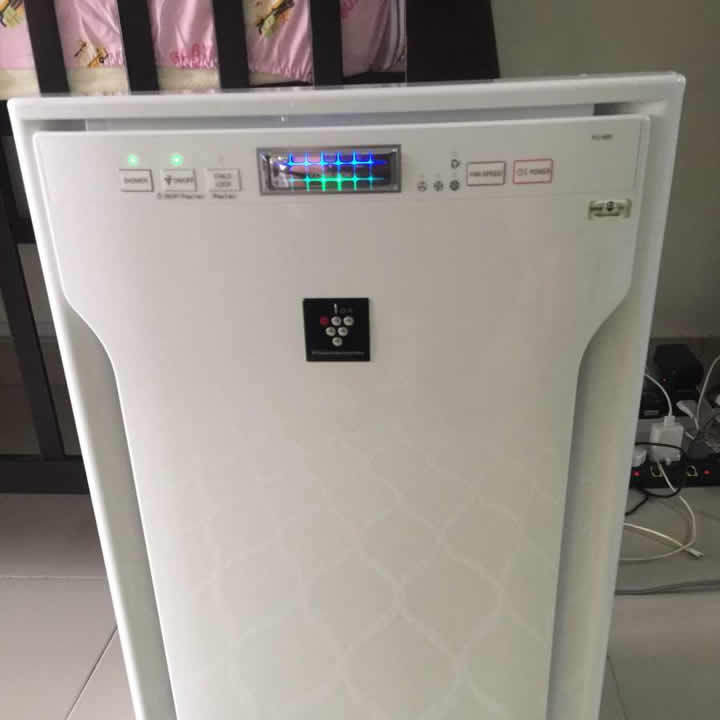 If you're looking for an easy solution against pesky allergens and pollutants polluting your household atmosphere, then choosing the Sharp FUA80EW is worthwhile! Its top-notch features and effortless maintenance make for one great product aimed at making life easier – what more could one ask for? So don't wait any longer – purchase this fantastic air purifier today!
Pros:
Uses high-density Plasmacluster Ion Technology to remove airborne particles quickly
HEPA and active carbon 2-in-1 filter for effective air purifying
Automatically adjusted fan speed based on the sensor
Clean sign indicator to let you know when an area is successfully purified
Cons:
High price point
High power consumption
It can be noisy when running at full speed
Check Best Prices on Lazada
Check Best Prices on Shopee
2. Sharp FPJ30LA
Budget Picks
Sharp's FPJ30LA Air Purifier is an incredibly versatile and powerful air purification system. With a coverage area of nearly 23 m², this air purifier can clean the air in even the largest rooms. Moreover, Sharp's unique 3-step dust collection system, which includes their advanced Plasmacluster technology, captures and removes a wide range of particles, from mould, viruses and allergens to odours and static electricity. The high-performance HEPA filters ensure that all the captured particles are removed from the air. At the same time, the Haze mode provides extra power for capturing fine particles like haze and smoke.
Owning the Sharp FPJ30LA Air Purifier is a great choice for any homeowner looking to keep the air in their home clean and safe. Its powerful, multi-stage dust collection system and advanced technologies can eliminate any particulates from the air, giving you peace of mind that the air your family is breathing is pure and healthy. The advanced filters also help to trap all particles, preventing them from being released back into the air and prolonging the life of the device.
With its powerful features and practical cleaning abilities, the Sharp FPJ30LA Air Purifier is the perfect choice for any homeowner looking to keep their air clean, safe and healthy. Don't wait any longer – purchase your Sharp FPJ30LA Air Purifier today and enjoy clean air all year.
Pros:
Powerful air suction and unique airflow quickly and efficiently collect dust and other particles
High-performance HEPA filters capture airborne dust particles
Remove mould, viruses, allergens, odours and static electricity
Plasmacluster technology effectively removes viruses and microbes that contaminate the air
Cons:
Noisy operation
Expensive replacement filters
Check Best Prices on Lazada
Check Best Prices on Shopee
3. Sharp FPJ80LH Plasmacluster
Plasmacluster technology
This air purifier has some great features that make it stand out from other air purifiers. The AIoT with smart functions allows users to remotely monitor air quality indoors and outdoors, keeping track of filter status and energy expenses. The Plasmacluster spot mode, along with the 3-step filtration system, ensures that all dust, bacteria, and viruses are securely removed from the air, so you can breathe easier. The air purifier also displays both humidity and temperature levels. It offers automatic operation with just one button press for easy use.
It is an ideal choice for those who suffer from allergies or have respiratory issues, as it effectively removes impurities from the air with its advanced technology. Moreover, it offers peace of mind knowing that your family is safe from airborne contaminants. Its easy-to-use control panel and automatic operation make it convenient to keep your home's air clean and healthy.
This air purifier is an excellent choice for improving their home's air quality. Its advanced features offer a great way to clean your air quickly and effectively while monitoring indoor and outdoor air quality. Its easy-to-use control panel and automatic operation make it an excellent choice for those looking for a hassle-free way to keep their home's air clean. Investing in this air purifier will ensure you access clean, breathable air for years to come.
Pros:
Plasmacluster technology effectively removes airborne viruses and microbes to create cleaner air
Eliminates unpleasant and strong odours
Reduces static electricity, preventing pollen and airborne dust from clinging to surfaces
Creates comfortable humidity in your living space to keep skin moisturised and healthy
Cons:
Automatic sensor operation may not be effective in larger spaces
The limited coverage area of 62m²
Check Best Prices on Lazada
Check Best Prices on Shopee
4. Sharp FPF40LW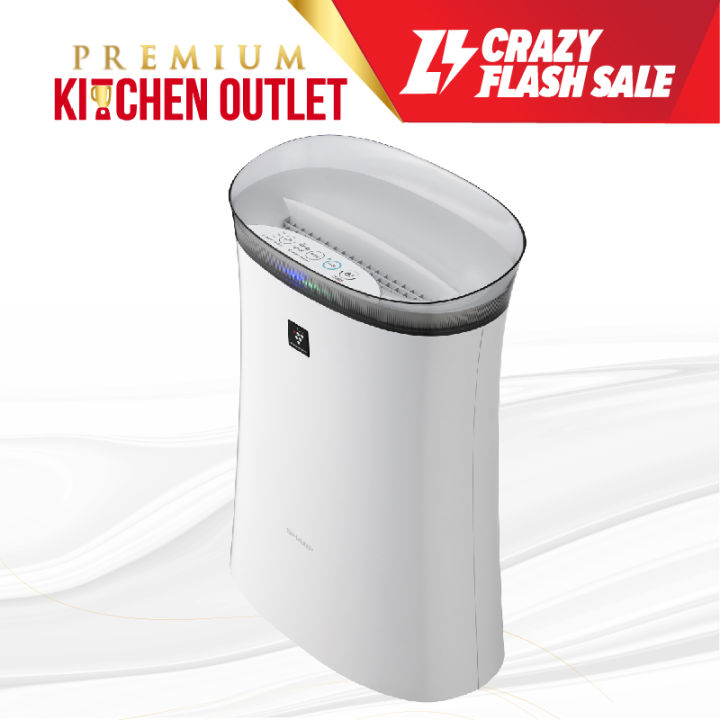 Quiet Option
As a homeowner, I'm always looking for products that can help make my home a better place, and the Sharp FPF40LW Air Purifier is one of those products. This air purifier has a three-step filtration system featuring a pre-filter, deodorising filter, and HEPA filter. This ensures that the air in my home is of the highest quality. The air purifier also features high-density plasma cluster ion technology, quickly and powerfully removing airborne particles.
Additionally, the Sharp FPF40LW has a haze mode which operates at maximum airflow to remove pollutants from the air and keep my home fresh. This is especially helpful since many cities experience lousy air quality due to pollution. Moreover, this air purifier is low on power consumption and operates quietly – just 25dB! So I can be sure I won't be disturbed by it while trying to relax.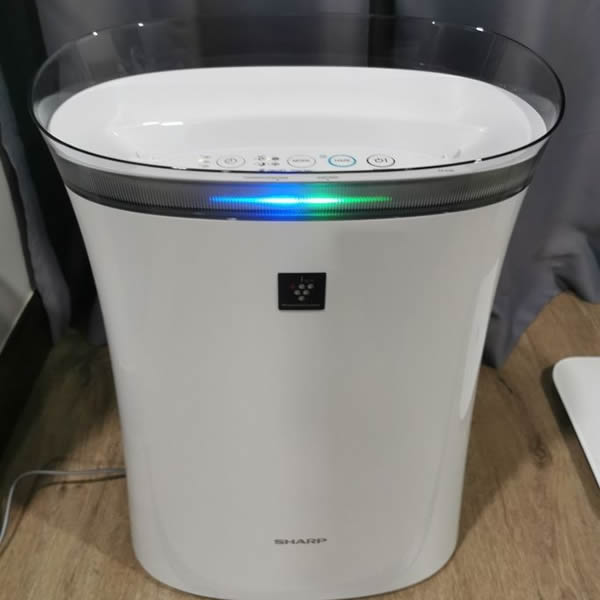 The Sharp FPF40LW Air Purifier will help me make my home a healthier and more comfortable place to live in. So what are you waiting for? Get this air purifier today to ensure your home is always fresher and cleaner.
Pros:
Effectively removes airborne particles using high-density Plasmacluster ion technology
3-step filtration system – Pre-filter, Deodorizing filter, and HEPA filter
Haze mode operates at maximum airflow to keep room air fresh
Low power consumption and quiet operation (25dB)
Cons:
Covers only 30m²
No Wi-Fi capability
Check Best Prices on Lazada
Check Best Prices on Shopee
Price Comparison in Malaysia
The entry-level model of sharp Air Purifier is the FPJ30LA which has an affordable price of RM379. This basic but effective model provides HEPA filters and low noise operation making it ideal for small rooms such as bedrooms or offices up to 23 square meters.
The mid-range models like FUA80EW Plasmacluster Air Purifier and FPJ30LA cost slightly more at around RM800 – RM900 depending on features but offer superior coverage of up to 60 square meters and better technologies, including smart sensors and advanced filtration systems, which make them well worth their price tag when compared against other brands doing similar jobs with fewer features.
Lastly, there's no beating Sharp's top tier model –the FPJ80LH Plasmacluster Air Purifier, which will cost anywhere between RM1700 – 2000 depending on where you get it from; this powerhouse can clean any room up to 62sqm quickly while being extremely energy efficient thanks to its excellent design.
Unique Features
Experience a better clean air environment with Sharp Air Purifiers equipped with state-of-the-art technology such as Plasmacluster Ion Technology, HEPA filters, Automatic Mode and energy-efficient design! Read on to find out more!
Plasmacluster Ion Technology
Plasmacluster Ion Technology is an advanced purification system developed by Sharp that helps create a more natural and cleaner environment. It works by dispersing positive and negative ions into the air to help reduce airborne particles such as bacteria, viruses, smoke, dust and pollens that can cause allergies. This technology also helps reduce odours while providing fresh air in areas where it is used.
The Plasmacluster Ion Technology from Sharp effectively improves indoor air quality at home for homeowners looking for a safe and reliable solution. With this technology installed at home, homeowners can enjoy clean breathing air without having to worry about allergens bringing harm or discomfort to their lives
HEPA Filters
HEPA filters are a common feature in almost all Sharp air purifiers available in Malaysia. HEPA is an acronym for High-Efficiency Particulate Air, and it efficiently captures tiny particles. The unique filter design allows the air purifier to capture even microscopic airborne pollutants like dust, smoke, pet dander, pollen grains and toxic gases up to 0.3 microns in size. This helps improve the air quality effectively, as most impurities will be trapped within the filter rather than being circulated back into your home's environment after filtration.
Automatic Mode
Automatic mode is one of the features to look out for when considering buying a Sharp air purifier in Malaysia. This convenient and efficient technology automatically adjusts its fan speed based on the air pollution detected in your home, so you don't have to manually adjust the settings. It also has sensors that detect dust particles, gases and odours and responds immediately by increasing or decreasing its fan speed accordingly.
Compact Size
With the Sharp range of air purifiers, you have options that feature powerful cleaning capabilities and take up minimal space in your home or office. They are designed with a sleek and compact exterior to fit perfectly into any part of your house without taking too much room away. The unit measures about 34x43x73 cm, so it's easy to store and install in even tighter spaces within your home or workspace. You no longer need to worry about finding a corner where you'll be able to place the appliance, as its small form factor will ensure it fits almost everywhere!
Energy-Efficient Design
One of the key features to consider when shopping for an air purifier is how efficient it is. Sharp air purifiers provide excellent energy-efficiency ratings that make them perfect for homeowners looking to save on their monthly electricity bills. Their ultra-quiet motors produce little noise and consume minimal energy while still providing powerful, effective cleaning thanks to Plasmacluster Ion technology. With a low power consumption of only 12W, these air purifiers can easily be incorporated into any home's existing electrical setup without breaking the bank.
Factors to Consider
There are several considerations before picking the right Sharp air purifier for your home. Keep reading to learn more about the features and functions of each Sharp model.
Size of the Room
When shopping for a Sharp air purifier, the size of the room is an essential factor to consider. An air purifier should be able to effectively cleanse and circulate enough air throughout a given space to combat airborne pollutants.
For example, larger rooms would require larger models capable of processing more air every hour than smaller models used in an average-sized bedroom or living area. If you're looking for a Sharp air purifier tailored explicitly towards a large room, the Sharp FUA80LH Plasmacluster Air Purifier has been designed with such spaces in mind as it can filter up to 62 square metres of space efficiently.
Type of Filters
Sharp offers a variety of filters for its models, which vary in terms of how well they can remove particles from the air. The most common types include HEPA filters, activated carbon filters, and pre-filters.
HEPA (high-efficiency particulate air) filters are designed to capture ultrafine particles as small as 0.3 microns in size, making them ideal for removing allergens such as dust mites, pet dander, smoke, pollen and other airborne contaminants. For added convenience, some Sharp models also have washable pre-filter screens to help extend the life of their HEPA filter by trapping larger particles before they reach it.
Activated carbon filters can absorb odours, gases and cigarette smoke with high efficiency while maintaining a low airflow resistance due to their highly porous structure. These are usually combined with a pre-filter or another type of filter, such as HEPA so that both gas and particulate pollutants can be removed simultaneously from the indoor environment.
Additional features
Many Sharp air purifiers have additional features designed to make the unit easier and more convenient. These features include a dust sensor, automatic mode, timer setting, filter replacement indicator and fan speed settings.
Price
Most Sharp air purifiers offer excellent value for money and last up to a decade, making them an excellent investment. The price range of Sharp air purifiers varies drastically depending on features and models. For instance, the Sharp FUA80EW Plasmacluster Air Purifier retails for between RM 800, while the budget-friendly Sharp FPJ30LA Air Purifier costs around RM 400. Meanwhile, more advanced models like the Sharp FPJ30LA Air Purifier can cost as much as RM 1,700 – 2,000. It's essential to consider your budget when deciding which model is suitable for you.
FAQs
How Much Does a Sharp Air Purifier Cost in Malaysia?
The cost of Sharp air purifiers varies depending on the size, model and additional features available. Generally, you can expect to pay between RM380 to RM600 for a basic Sharp air purifier in Malaysia. For more advanced models with extra features such as Plasmacluster Ion Technology or HEPA filters, prices could go above RM2,000.
Where to Buy Sharp Products in Malaysia?
There are several places to purchase a Sharp air purifier in the country, including online retailers and brick-and-mortar stores. When buying from an online store, be sure it is reputable and has good customer service. You should also check reviews from previous buyers before making your purchase.
Major departmental stores like Harvey Norman and electrical shops like Senheng & Courts often offer affordable prices for their products too! It's best to visit these retail outlets first hand if time permits so you can look at what they have available before making your final decision.
Which Sharp Air Purifier is The Best?
The Sharp FUA80EW Plasmacluster Air Purifier is one of the most efficient models on the market with its powerful yet energy-efficient design. This model boasts an impressive range of features such as auto mode, high CADR rating and its patented Plasmacluster Ion Technology – all designed to ensure optimal air purification. It also has 3 different filter layers; HEPA filters which capture indoor allergens efficiently, while nano titanium dioxide filter helps reduce odours caused by smoke or pets at home.
Who Should Buy?
Sharp air purifiers are perfect for anyone who wants to keep the air quality in their home as high as possible. They're ideal for people who suffer from allergies, asthma, or other respiratory problems exacerbated by poor indoor air quality. With features like HEPA filters and Plasmacluster Ion Technology, Sharp Air Purifiers effectively remove pollen, dust mites and pet dander from the air, so even those with severe sensitivities will find relief when using them.
Conclusion
If you want to ensure the air in your home is as clean and safe as possible, investing in a quality Sharp Air Purifier is great. With Plasmacluster Ion Technology, HEPA filters, Automatic Mode, Compact size and energy-efficient design all packed into one device – the Sharp Air Purifier provides unparalleled purification performance whilst still being affordable and easy to use.