Did you know that out of all types of fans, the ceiling fan is considered as the most effective in ensuring proper ventilation of a house. It provides better air circulation and while also maintaining a consistent temperature of the room.
More importantly, ceiling fans are also space-efficient and can add to the overall design of the house.
We have listed the top best ceiling fans in Malaysia that you can conveniently order online, too:
#1- Deka Kronos F5p Ceiling Fan With Remote Control 5 Blade 56 Inch
Comes with its elegant black blade, this ceiling fan will easily blend with your house interior. It is also easy to install the product from Deka; you can conveniently pull a DIY to have it working.
Timer and remote control enabled
Silent operation
High-speed motor
The quiet and natural breeze
Adding this to the household certainly adds a significant level of comfort. We like that the circulation is not too intrusive and mimics natural breeze. You can order this at a discounted price here.
Check prices on Lazada
#2 – Ceiling Fan Elmark El 921 54 With Remote Control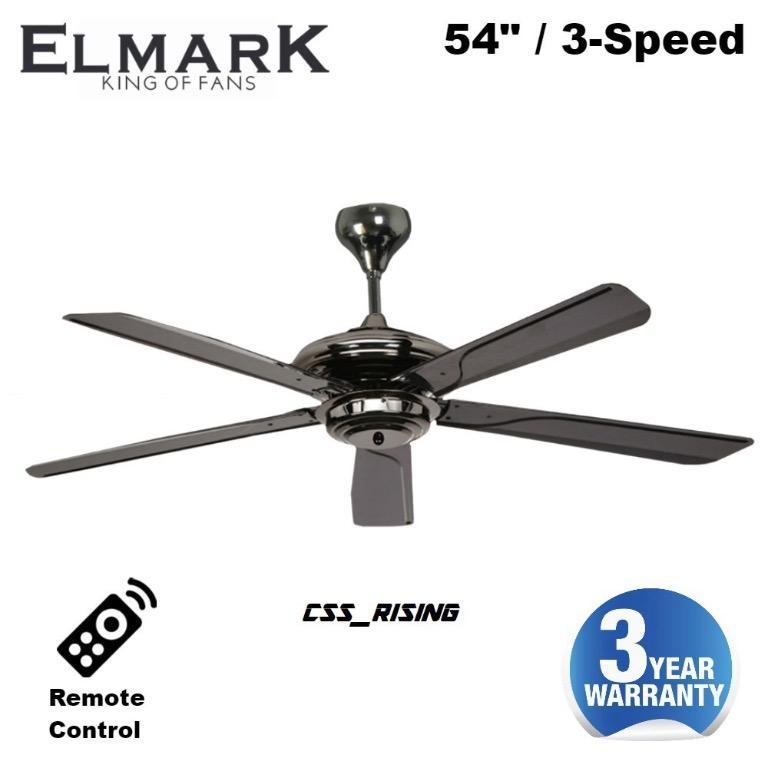 Blades are made from acrylic, which guarantees its quality and durability. It is also SIRIM certified so you are guaranteed to have seamless installation and usage of this fan.
Timer Function High-Speed AC Motor
High Air-Flow Design Full Function Remote Control
It also comes with the usual three-speed setting to match the ventilation needs of your house. Perfect for large livings rooms, kitchens, and even patio. Get Elmark ceiling fan here.
Check prices on Lazada
#3 – Alpha Ceiling Fan Cosa 998 4 Speed Remote

If you are planning to install ceiling fans in two areas of the house, then do not miss this twin pack offering from Alpha at a very reasonable price.
Can set the timer for up to 6 hours
High-speed quality motor
Low wattage
Four-speed settings
We also did not have a hard time trying to install this fan. It is really quiet, too even if you set the speed to three. Do not miss this twin pack here.
Check prices on Lazada
#4 – Kdk Ceiling Fan (K15v0-Pbr) – 150cm/60″
Do you need your ceiling fan to run for extended hours? If so, the best option for you is to go for fans with energy-saving features like this Kdk ceiling fan.
Energy-saving condenser motor Enhanced with Cut-off Safety Device and blade Safety Plate
Decorative cover
Wider sweeping blades
It covers a larger area of the house and produces a soft breeze. No need to worry about how it'll look in your home because Kdk ceiling fans could easily double as new decorations, as well. Buy it at its best price here.
Check prices on Lazada
#5 – Deka Ceiling Fan With Led Light / Remote Control V5
A multi-functional ceiling fan that can already double as your room light, as well. Enjoy the elegance and comfort with this Deka ceiling fan.
4-speed setting AC Motor
56 inch diameter Bluetooth enabled full-function remote control
It adds so much aesthetic value to the house, which makes it a really great investment, especially for those who are just starting to decorate the house. This is both a necessity and an accessory. Do not miss it; you can buy it here.
Check prices on Lazada
#6 – Ceiling Fan Elmark Kl 101 / Spitfire 246 – 52 With Remote Control
If you are looking for a great package, make sure to avail of their twin pack promo, you get two remote-controlled ceiling fans for a great price.
Five ABS blades High Air Flow feature
High-Speed AC motor Timer function
After consistent use, Elmark ceiling fans are also guaranteed to be easy on your electric bills so no need to worry about running it for an extended period of time. You can get it at its promo price here.
Check prices on Lazada
#7 – Deka Dk10 – 5 Blade Black Ceiling Fan With Fan Regulator 56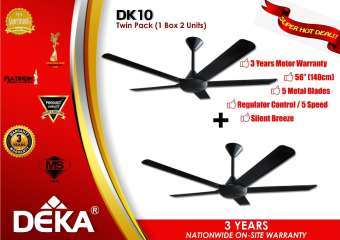 The aerodynamic design of the blade creates better airflow in the house. Enjoy the elegance of this 56-inch ceiling fan, with easy installation instructions.
5 Speed Wall Regulator 3 Years motor Warranty
Energy Saver ( Motor 73w Manual control
We love the overall modern look of this version, and despite the manual control, the ventilation quality will less likely make you do frequent adjustments to its speed settings. This is going on sale here.
Check prices on Lazada
#8 – Panasonic F-M12a0 Ceiling Fan
If you are looking for a silent worker for your house, you can trust Panasonic to do the job. It offers you maximum speed, but less of the sound of the motor running.
Thermal safety fuse fall prevention plate for the blades
Quiet operation
Panasonic takes safety and precaution seriously with this ceiling fan, so you can use it with peace of mind in your own home. This model is selling out fast online. Get it here today.
Check prices on Lazada
#9 – Khind Ceiling Fan Cf612t (60 ) X 2 Sets 3 Blades Ceiling Fan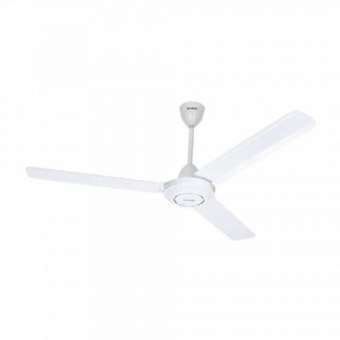 Khind is among those brands that have perfectly combined advanced fan technology with great aesthetics. We particularly love the neat appeal of this white ceiling fan.
5 Star Energy Rating Hook Ceiling Mount
Eco-friendly Low noise level
Getting this fan will seem like also getting an upgrade for your entire house. Enjoy better ventilation plus an added decor to your ceiling with this Khind ceiling fan. You can buy this here today.
Check prices on Lazada
#10 – Khind Cf630r Ceiling Fan 60 With Remote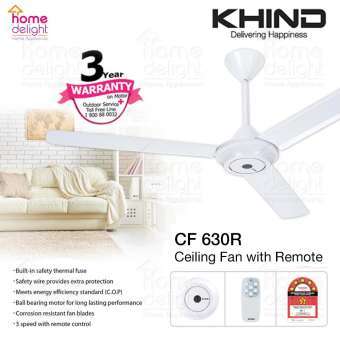 Khind is once again offering their two in one promo for their 60-inch fan, and it just got better with this remote control enabled model.
Built-in safety thermal fuse Safety wire provides extra protection
60 inch Fan blade
You can be likewise assured with the quality of this fan because it is made from corrosion-resistant blades. It is also guaranteed energy efficient so you can enjoy comfortable ventilation at your home round the clock. Get this package here today before it runs out again.
Check prices on Lazada
#11 – Mitsubishi C60-Gy-P-Wh 60inch 3 Blades Ceiling Fan
Mitsubishi brings in the traditional three-blade ceiling fan, but with better airflow and lowers energy consumption.
Four-speed setting Regulator Type
Energy efficient
Its white colour also looks neat in any house interior, it does not compete with your decor or ceiling, at all. Get one for your house by ordering here.
Check prices on Lazada
Why should you buy a ceiling fan?
Malaysia's weather is becoming more unpredictable year after year. Still, one thing has remained constant, the need for a reliable fan and cooling units to keep us comfortable whether it is at home or in the office.
Buying a ceiling fan offers a lot of advantages from being more space-efficient, quiet, and powerful than all other fans like a stand fan. Even if you are using air conditioners, having a ceiling fan will also help circulate the cold air more efficiently.
Most ceiling fans now come with the energy-efficient motor, so it will not significantly affect your electricity bill, even if it is used alongside your AC.
Check out our top recommended products here:
1-Deka Kronos F5p Ceiling Fan With Remote Control 5 Blade 56 Inch
2-Ceiling Fan Elmark El 921 54 With Remote Control
3-Alpha Ceiling Fan Cosa 998 4 Speed Remote