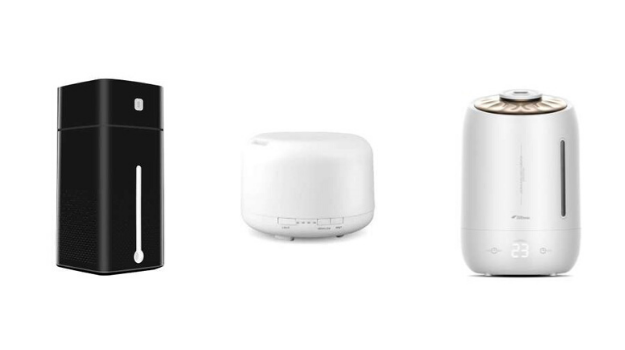 While air conditioners certainly give us the comfort we need daily, long exposure to it can also have an adverse impact on the body. It can mainly be felt by our skin, eyes, and even our respiratory system. People who are prone to these effects are those who are working in offices or those who sleep with the aircon on overnight.
Fortunately, we now have humidifiers to safely and effectively counter some of the aircon's impact on our bodies. We have listed here the top 6 humidifiers that are available in Malaysia.
#1 – 500ML Ultrasonic Air Humidifier
This is ideal for those who would want their own humidifiers in their office cubicles or bedroom. With a 500 ml capacity, this can last you an entire day.
Made with safe, PP material Can be used for aromatherapy
Comes with LED mood light Low power consumption
It is small enough to fit in your office space, or bedside table. The mood light also adds to a more relaxing sleep, combined with your choice of essential oil. This is one of the most affordable humidifiers available online. Get it here.
Check prices on Lazada
#2 – Muji Style Air Humidifier Ultrasonic Aroma Diffuser
With more and more people in Malaysia embracing a more holistic approach to wellness, essential oils and diffusers are also gaining popularity. This Muji style oil diffuser also doubles as you humidifier.
Colourful design (8 light mood options)
Safe for essential oils
Compatible Malaysia plug
500 ML capacity
This helps you sleep better and wake up with less irritation from a dry throat. Get this multi-functional humidifier here.
Check prices on Lazada
#3 – Air Humidifier Diffuser Purifier Ultrasonic Essential Oil Aroma Aromatherapy
It can be quite challenging to find an affordable humidifier that also has its own purifier function. So glad to have found this online, and it has worked well so far.
Comes with free essential oil with purchase Compatible Malaysia plug
Upgraded 2019 model 7 LED lights
Small and space saver
While it does not work as efficiently as an actual air purifier, it still works well enough for smaller spaces. Get your this cute air humidifier here.
Check prices on Lazada
#4 – 200ml Ultrasonic Air Humidifier
When looking for a humidifier that you also want to use as an oil diffuser, it is better always to choose those with the ultrasonic feature as it better spread out the oils into the air.
Perfect for overnight usage Spill-proof
LED light options Mist control
If you want your oil to last longer, you can adjust the mist into the intermittent setting. This also regulates your body's intake of the oil. This is selling out fast online, you can check this out here.
Check prices on Lazada
#5 -Color Cup Ultrasonic Home Aroma USB Car Humidifier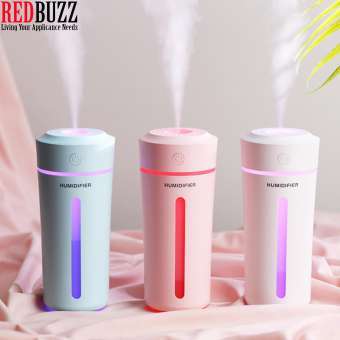 With a great experience with humidifiers, its no surprise that we also shifted from the regular car freshener to an oil diffuser. The best part is it also humidifies the car.
Comes in three different pastel colours Fits car cup holders
Auto-shutoff once the water runs out Safe with essential oils
Comes with LED lights for night driving
Make your ride a more relaxing one, especially in the busy streets of Malaysia. So easy to fit in your car, and definitely a less toxic way to keep your car smelling nice. You can buy it here.
Check prices on Lazada
#6 – 1000ML Air Humidifier Diffuser Aroma Aromatherapy with Colour Lamp
Finally, here's one of our top choices for longer humidifying of larger rooms. It can last for up to 9-10 hours, with an auto-shutoff feature.
Compatible with essential oils Comes with mood lights to serve as lamp
Longer hours, better humidifying function Nano mist
It definitely works silently while emitting the finest mist. You can officially say goodbye to dry, scaly skin after a night of air-conditioned sleep with this humidifier. Don't miss out its discounts online here.
Check prices on Lazada
Benefits of Having a Humidifier at Home
Just a week of consistent use of a humidifier and you can readily feel the difference, especially if you spend most of your hours in air-conditioned spaces.
Humidifier provides you with the much-needed moisture, which your room significantly loses with constant use of AC. As a result, you get better skin quality, fewer allergies, and lesser risk of developing respiratory problems.
Aside from its contribution to our bodies, humidifiers also protect your possessions inside the house, especially on your wood furniture.
Constant exposure to dry air actually makes wood crack faster. So, having a humidifier at hand will also help preserve many of your home features.
Check out our top recommended products: