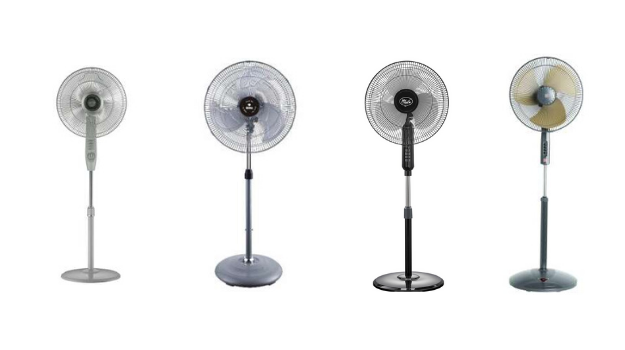 As a homeowner in Singapore, staying cool and comfortable is essential in the tropical climate. Choosing the right stand fan can make all the difference in your home's atmosphere.
This blog post will present Singapore's seven best stand fans to help you find the perfect breezy companion for any room. We've carefully researched and compiled a list of top-rated options that are functional but also energy-efficient, quiet, and stylish.
So whether you're looking for an affordable or high-end model with smart features, our selection caters to every need and budget.
Quick Recommendation
"Take a quick peek at our recommended products list or scroll down for more comprehensive reviews to help you make an informed decision."
• Stay Cool in Style: Adjustable Height and Sleek Design Fan: KDK P40US
• Stay Cool and Comfortable with Advanced Stand Fan Technology: Mistral MSF1679R
• Efficient and Quiet Cooling with this Versatile: Panasonic F-407YSNBNGZ
• Quiet and precise natural breeze with voice control capabilities: Xiaomi Smartmi Standing Fan 2
• Best for energy-efficient and powerful air circulation: Nushi NSF-1613
Comparison Table
1. KDK P40US
Adjustable Height and Sleek Design Fan
Highlights
• Adjustable height: With a range of 129cm to 154cm (50¾" – 60¾"), the KDK P40US can be easily adjusted for comfort.
• Sleek design: The P40US is designed with style and elegance in mind, making it an attractive addition to any room.
• Energy efficient: The energy-saving motor of the P40US ensures you stay cool without wasting electricity.
• Customizable airflow: This versatile fan lets you choose three different speed settings for customized cooling.
• Easy to clean: The detachable blades and easy-to-remove front panel make cleaning the P40US a breeze.
• Quiet operation: Despite its powerful performance, the P40US operates quietly, allowing you to relax comfortably.
The KDK P40US is the No.1 choice for homeowners looking for a reliable and high-performing fan due to its sturdy design and long-lasting performance. This 16-inch (40cm) stand fan offers a 3-speed selection with an ON/OFF push-button switch, making it simple for users to control their desired airflow. Its metal blade ensures durability, providing powerful and efficient cooling even in demanding situations.
A standout feature of the KDK P40US is its ability to be adjusted between 129cm to 154cm in height, offering versatile customization options suited to any room size or layout. This reasonably-priced fan offers exceptional value without compromising quality or functionality. Homeowners would undoubtedly appreciate the combination of flexible design choices and proven performance, making the KDK P40US a preferred choice among multiple generations.
In conclusion, when considering factors such as durability, ease of use and adaptability within various applications – all aspects vital in decision-making – it's no wonder that we have ranked the KDK P40US at the top of our list for fans suitable for home use. For additional insight into this impressive product and others like it, explore resources provided throughout our website or by visiting external links from reputable sources.
Pros
• Enjoy cool, comfortable air circulation with a powerful, efficient 16-inch KDK P40US fan.
• With the convenience of a simple ON/OFF push-button switch, you can easily turn it on and off to suit your preferences or needs.
• Adjust the fan's height between 129cm to 154cm for optimal positioning wherever you need it in your space.
• The metal blade ensures the durability and longevity of the product, so you can enjoy its benefits for many years to come.
Cons
• Loud noise at higher speed settings
• Limited oscillation range
• No remote control included
This KDK P40US fan is perfect for anyone looking to stylishly cool their home without compromising convenience or adjustable heights. With its sleek design and convenient push-button switch, this fan is ideal for any consumer seeking a long-lasting, reliable cooling system. Get your own now!
Check Prices on Lazada
2. Mistral MSF1679R
Advanced Stand Fan Technology.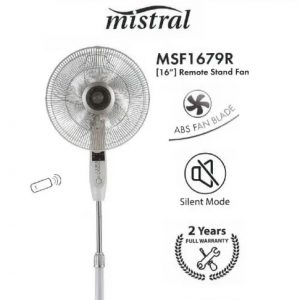 Highlights
• Powerful 55-watt motor for optimal cooling
• Adjustable height up to 138 cm for versatile use
• Reliable safety mark and local warranty for added peace of mind
• Lightweight net weight of only 6.3 kg for effortless movement
• Impressive motor warranty of 8 years to ensure durability
• Designed with global voltage compatibility for hassle-free use anywhere in the world
The Mistral MSF1679R ranked as our No. 2 fan for homeowners, provides a winning combination of efficient cooling and smart design. This versatile 16″ remote stand fan is ideal for home or office use, with its sleek LED display and user-friendly features that make it easy to customize your airflow experience. The adjustable height makes it perfect for various room settings, while the guard rings with a clip ensure safety when in use.
Pros
• Enjoy customized comfort with 3-speed settings and four modes
• Stay cool for longer periods with the 7.5-hour timer
• Save space with the stand fan's adjustable height feature
• Experience quiet, uninterrupted sleep with Silent Mode
Cons
• No oscillation feature
• Slightly bulky design
• Limited control options on the remote
The Mistral MSF1679R is perfect for busy modern consumers who want a high-quality fan with advanced features and adjustable settings. With its 7.5-hour timer, 5 ABS fan blades, guard ring with clip, and three-speed selections, this stand fan will help you stay cool in the hottest of summers. Get your hands on one today!
Check Prices on Lazada
3. Panasonic F-407YSNBNGZ
Versatile Stand Fan
Highlights
Adjustable height to fit any room comfortably
Three speed options for full control over airflow
Stylish design adds an attractive touch to your living space
Durable metal blades ensure long-lasting use
Powerful airflow to cool every corner of the room
Light weight and easy-to-move design for convenience
Ideal for hot summer days or cold winter mornings
Adds an elegant touch of style to any interior décor
Affordable price for a reliable and efficient stand fan
The Panasonic Stand Fan 16″ F-407YSNBNGZ is the perfect addition to any home. Its adjustable height allows it to fit into any room comfortably, and the three-speed options give you full control over the airflow you receive. It features durable metal blades, ensuring that this fan can last a long time without needing replacements, while its stylish design adds an attractive touch to your living space.
This stand fan has extremely powerful airflows that ensure every corner of your room is cooled off, making it ideal for hot summer days or even after getting out of bed on cold winter mornings! Additionally, due to its lightweight and easy-to-move design, you can effortlessly move this fan from one room to another without sweat.
Pros:
Provides powerful airflow to cool you down on hot days
Easily adjustable height to suit your exact needs
Durable construction made with metal blades for long life
Light and easy to move, convenient for multiple locations
Cons:
High energy consumption
Loud motor noise
Limited range of movement
Check Prices on Lazada
4. Xiaomi Smartmi Standing Fan 2
Quiet and precise natural breeze with voice control capabilities.
(Images Credits: Amazon)
Highlights
• seven blades: Equipped with seven blades for more effective and efficient cooling.
• Modern style: A sleek and stylish addition to any living room or bedroom.
• Low noise level: Enjoy a cool breeze without the distraction of loud noise.
• Lightweight design: Weighing only 6.6 pounds, it's easy to move around your home as needed.
• Energy-efficient: With a wattage of only 15 watts, this fan won't hike up your electric bill.
The Xiaomi Mi Smart Standing Fan 2 has been designed with the needs of homeowners in mind. This highly efficient fan boasts dual blades that create a natural breeze, mimicking the feel of outdoor wind while offering powerful cooling capabilities for any living space. Its DC motor provides constant speed and stable ventilation while consuming less power – in fact, and it uses only 1kWh throughout the summer! Homeowners looking for energy savings and cool relief on sweltering days will appreciate this feature.
One standout aspect of this standing fan is its versatility: you can control it using your voice or the Mi Home app (available for Android and iOS devices). The app offers precise control over settings like airflow speed—with up to 100 levels at your disposal—and includes options such as natural breeze or direct blow modes. Additionally, you can preset timers so the fan turns on automatically according to your schedule. Finally, its sleek design ensures it will fit seamlessly within any home decor, making Xiaomi Smartmi Standing Fan 2 a practical addition to modern households everywhere.
Pros
• Enjoy a peaceful and undisturbed environment with the exceptionally quiet operation of the Xiaomi Smartmi Standing Fan 2.
• Achieve your desired airflow with precision speed settings, ranging from natural breeze to direct blow and customizable fan speeds up to level 100.
• Save energy costs with its high-efficiency DC motor that consumes only 1 kWh for an entire summer while providing constant speed for more stable ventilation.
• Experience a gentle three-dimensional breeze thanks to its unique dual-blade design, which increases airflow and provides wider coverage.
Cons
• May not be suitable for larger rooms
• Requires a stable Wi-Fi connection to use all features
• Higher price point compared to traditional standing fans
This product is ideal for people who want to stay cool and comfortable without disturbance – perfect for those who want natural breezes, precision speed settings and low power consumption. Get your Xiaomi Mi Smart Standing Fan 2 today to start enjoying a tranquil environment with just the press of a button!
Check Prices on Lazada
5. NUSHI NSF-1613
Best for energy-efficient and powerful air circulation.
Highlights
5 blades with B+5S AS BLADES technology for maximum air throw
3 speed settings with oscillating feature for customized airflow
Timer feature for up to 1 hour before automatic shutdown
Overheat protection for safety
Heavy round base for stability, balancing out shaking at high speeds or uneven surfaces
Compact size design for minimal space consumption
Extra long cord for convenience
Sleek design adds elegance to int
The NUSHI NSF-1613 Stand Fan is an ideal fan for a contemporary living space. It has five blades featuring B+5S AS BLADES technology ensuring maximum air throw. This fan is packed with 3-speed settings and an oscillating feature, which allows you to customize the airflow according to your needs. A timer feature also enables you to set the time up to 1 hour before the fan turns off automatically. Besides this, it also has overheating protection, so you can use it comfortably without worrying about safety issues. The heavy round base ensures stability and balances the shaking of high speeds or uneven surfaces.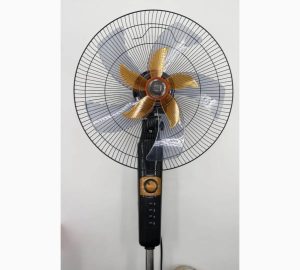 This top-notch fan from NUSHI provides efficient cooling in any room of your home or office while taking up minimal space due to its compact size design. Furthermore, its extra-long cord ensures you don't have any troubles when plugging it into distant outlets, either near or far away from the switchboard socket outlet. Its sleek design adds elegance to your interior decor, making it look stylish and modern all at once!
Pros
Oscillating design for maximum cooling.
3-speed settings with overheating protection to ensure safety and comfort.
1-hour timer extra long cord provides convenience.
Heavy round base makes it very stable, with a 3-year warranty for peace of mind.
Cons
Bulky fan base can make it difficult to move
Can be a bit noisy at the highest speed setting
Not suitable for large spaces due to its smaller blade size
Check Prices on Lazada
Some factors to consider when choosing a stand fan in Singapore include:
The size of the room you want to cool down.

Airflow capacity of the fan.

Noise level.

Oscillation angle and speed settings.

Ease of use and maintenance.

Energy efficiency rating.
Conclusion And Recommendation For The Best Stand Fan In Singapore
In conclusion, a stand fan is an essential appliance for every home in Singapore, providing cost-effective, portable and versatile cooling solutions.
Our top recommendations are the KDK P40US Stand Fan and Mistral MSF1679R 16-Inch Stand Fan. The KDK P40US stands out for its adjustable height, sleek design, energy efficiency and customizable airflow options.
It also operates quietly, making it perfect for bedroom use.
Regardless of which model you choose based on your preferences or budget needs, consider crucial factors like noise level, oscillation angle and energy efficiency before purchasing.
Stay cool this season with our recommended stand fans!
FAQs
Do these stand fans come with warranty coverage?
Yes. Most reputable brands offer warranty coverage, such as parts replacement or repair services for faulty components.
How can I maintain my stand fan to prolong its lifespan?
Maintaining your stand fan involves simple cleaning practices such as wiping down blades and grilles regularly with a damp cloth or mild detergent solution, checking motors periodically for signs of wear or damage, and lubricating them if needed, along with ensuring proper placement that doesn't impede airflow which will aid operation over time by keeping it running smoothly while preventing breakdowns from dirt buildup around filters/coils leading eventually potentially costly repairs later on down the line.